They just have a touch of class, don't they? Slick as marlins in the water at the back, as ferocious as stampeding rhinos in the front. On Monday, 20 January, the North-West University (NWU) Eagles ran in five tries as they beat the Central University of Technology (CUT) Ixias 45-28 at the Fanie du Toit sports grounds in Potchefstroom.
The Eagles led 23-12 at half-time against the plucky visitors from Bloemfontein. Before the kick-off, the Ixias had occupied the second position on the Varsity Cup log behind the Eagles, and in the lead-up to the game nothing ever felt certain. The Ixias have been the surprise package of the tournament, but the Eagles were in no mood for unwelcome scares.
Ntobeko Shezi, Vernon Paulo and Matthee Fortuin all scored for the eventual victors before the break, while Matthee and Aphelele Madaka each dotted down in the last 40 minutes. Zinedine Robinson slotted four conversions and Martin Venter another. Robinson and Venter also added a penalty each.
With this victory the Eagles have cemented their log-leading position. After five games they have 22 log points, followed by Stellenbosch University's Maties with 19, University of Cape Town's (UCT) Ikeys with 16 and the Ixias with 16.
The Eagles will now face Ikeys in Cape Town on 27 March at the Green Mile Stadium, which is renowned for the erratic nature of the wind. It is one of a few challenges coach Burger van der Westhuizen and his troops must navigate as they continue their march to the play-offs.
With only two rounds left, hosting a semi-final in Potchefstroom is looking more and more likely. Fingers crossed, then.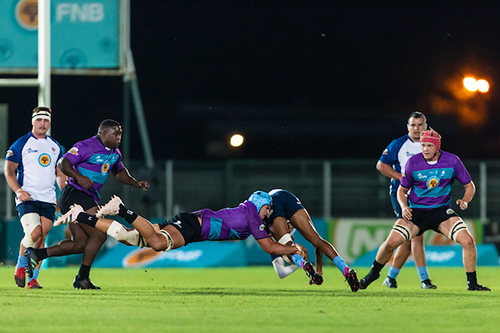 That's how champions do it!
Photo: Barco Greeff