The benefits from widespread and equitable access to information and communications technologies (ICTs) in South Africa are touted as having the potential to change the course and trajectory of this country for the better.
Researchers at the North-West University (NWU) share this view and are adamant that schools can serve as a base from which to address the growing digital divide, particularly between well-resourced and impoverished schools.
For instance, the Stats SA report "Covid-19 and barriers to participation in education in South Africa, 2020", which was released in 2023, provides significant statistical evidence of the exclusion of mainly black Africans from participation in remote learning during the Covid-19 pandemic.
Lack of access to digital devices by learners is cited as the main barrier to equal access to learning opportunities. To help bridge the inequality gap, the NWU has initiated an intervention project called "A service-learning project for schools' pedagogical integration of ICTs".
The project aims to introduce the use of ICTs for teaching and learning and reduce the inequality gap that exists among schools by implementing the project in schools located in poorer communities, that are under-resourced, and that do not have adequate teaching and learning resources. Teachers in such schools and the NWU's pre-service teachers will work together in implementing innovative teaching and learning strategies and methods that integrate the use of ICTs in various Curriculum and Assessment Policy Statement subjects. 
Dr Shepherd Mlambo from the School of Mathematics, Science and Technology Education in the Faculty of Education says, as a start, its researchers have identified two schools in the Mahikeng district that will serve as pilot sites for the project, with research outcomes expected in coming years. This, he says, could serve as a springboard to further fuel the uptake of technological penetration in all South African schools.
"Furthermore, there is a high percentage of teachers who have little or no ICT skills or lack the pedagogical skills needed to effectively teach with ICTs," explains Dr Mlambo.
The aims
He says they hope to reduce the inequality gap in schools by introducing ICTs in poor communities through a service-learning project in which in-service and the NWU's pre-service teachers work together to implement innovative teaching and learning strategies and methods that integrate the use of ICTs.
How the NWU hopes to bridge the hardware gap
The NWU usually auctions off good computers that are retired from its assets register. "As part of its social responsibility, I implore the university to set aside a percentage of those computers, say 30%, to support such projects in communities. A social responsibility focus such as this will in turn benefit us as a university, as most of our students come from these schools," suggests Dr Mlambo.
Various entities will also be approached to donate their human resources as well computers and tablets that can be refurbished. Dr Mlambo says negotiations will also be entered into for free data or data at a lower rate.
"So far, the project has received 25 HP Compaq Pro 6300 computers as seed inputs from the university, which donated them in September 2022. The ideal situation is to have at least 40 computers per school participating in the project," he says.
Expected outcomes of the project include:
Students applying teaching strategies and methods in situ, thus gaining practical knowledge.
Teachers who are able to design, prepare and present innovative lessons that integrate ICTs.
Demonstrating the ability to integrate ICTs in the classroom.
Making proposals for best teaching and learning practices that integrate ICTs.
Reflecting on everyday teaching experiences.
Analysing, critiquing, and proposing improvements in applied pedagogies.
Applying blended learning strategies.
Although the project for bridging the digital divide was conceived in 2019, it was delayed due to the Covid-19 pandemic, but Dr Mlambo and his team are hopeful that it will now gain momentum.
For more information email Dr Mlambo at Shepherd.Mlambo@nwu.ac.za.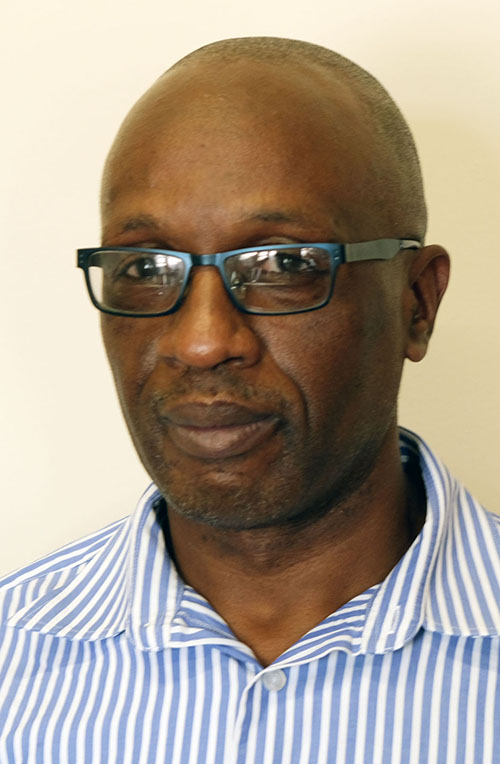 Dr Shepherd Mlambo from the School of Mathematics, Science and Technology Education.