North-West University (NWU) lecturers Tshepiso Mahura (28) and Thokozani Jele (27) have much in common.
Working at the Vanderbijlpark Campus, these best friends are both young academics from disadvantaged backgrounds, both pursuing their PhDs, and both taking the road less travelled – mathematics.
Thokozani – who finished his master's degree in eight months – Is working on B-metric spaces, while Tshepiso's focus is on financial statistics.
Hailing from Newcastle, Thokozani says mathematics was the curse of his life in high school – he saw it as hard work, needing long hours of taxing work for no satisfaction.
On the other hand, Vryburg-born Tshepiso was enthralled by it. Tshepiso recalls: "In high school I was addicted to maths. I found it fun and easy – the tougher the problem, the stronger my yearning was to find a solution.''
Through struggles and strife Tshepiso is living his dream
Though Tshepiso was a top achiever from a young age, his parents did not understand his passion and hard work.
"My parents did not see the value of education. In my area, no one had big dreams. People just lived to survive," he shares.
After passing matric with flying colours, Tshepiso decided to further his studies. He was accepted at the NWU and studied psychology, but had to drop out due to financial constraints, and stayed at home for two years.
"While at home I did different jobs including herding livestock, shop keeping and running errands at a construction company," he recalls.
After making enough money to pay off his university debt, he decided to go back and study statistics.
"I had always wanted to study actuarial science, but I did not qualify and decided to do something similar."
Shortly after receiving his master's degree, Tshepiso got a job at a credit risk analysis company, but fate had other ideas. Within a month, he joined the NWU as a lecturer.
Tshepiso shares that even though he had dreamed about being a lecturer for years, he did not expect how terrified he was going to be the first time he walked into a lecture hall as a lecturer.
He says he has learnt that having material prepared in such a way that he could respond to every eventuality gave him the confidence he needed.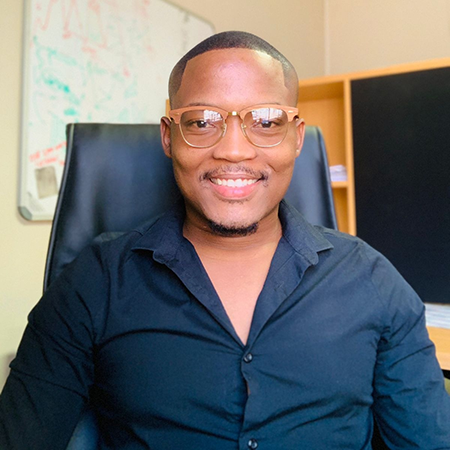 NWU lecturer Tshepiso Mahura's advice to aspiring mathematicians is to have balance. You can't spend all your time studying, you have to balance work and play, and motivate yourself." 
Maths helps Thokozani to solve problems in creative ways
Thokozani failed mathematics in matric and had to improve the subject the following year – a decision he is grateful for until this day. He confesses that never in his wildest dreams did he think he would be a maths expert one day.
"The classes really helped me and cultivated my love for maths. The rigorous training was the perfect preparation for me to become a lecturer," he says.
He adds that being a young lecturer can be challenging, but it is also very rewarding, as his maths background has helped him to approach problem-solving in creative ways. He says his favourite part about his career is watching his students grow.
"Watching my students' progress is very rewarding. I like my one-on-one interactions with students because sometimes they have an interesting way of seeing things, which allows me to learn from them," he says.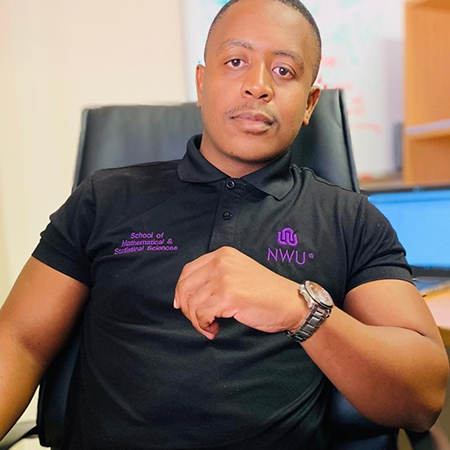 NWU lecturer Thokozani Jele completed his master's degree in only eight months.
Both Thokozani and Tshepiso are committed to sharing the delight and beauty of the subject. In their spare time, they give extra lessons to matrics from disadvantaged schools.
"Because maths pops up everywhere in science and engineering, having it as a subject opens lots of career doors. That is why it is our mission to make maths fashionable," says Thokozani.