There is no such thing as too much of a good thing, especially not when rugby at the North-West University (NWU) is concerned. Not in the slightest. On Monday, 24 April 2023 the NWU Eagles (Young Guns) were crowned the Varsity Cup Young Guns champions after beating Maties 27-26 in Stellenbosch.
By doing so, the fledglings emulated their older brothers who won the senior competition. Every Varsity Cup rugby trophy now resides in Potchefstroom, making the NWU the undisputed kings of university rugby.
The Young Guns' salvo of five tries proved decisive on the wet Western Cape field, although the game was a proper tug-of-war, as befitting a final.
Coach Hannes Esterhuizen again showed why he commands so much respect as a mentor for junior ranks. He has long been hailed for his exceptional talents in bringing out the best in youngsters. It is a crown that fits and one he should wear proudly.
The Young Guns started their campaign with a 33-29 win against University of Pretoria (Tuks), followed by a narrow 33-31 loss against the University of the Free State in Bloemfontein (UFS). The Central University of Technology (CUT) was then put before the firing squad, and the 83-34 score meant that no mercy was shown. A 61-45 loss against Tuks followed, before they exacted 43-38 revenge against UFS. A fusillade of artillery fire then greeted CUT, who suffered a 99-5 defeat. A tight but well-deserved 24-19 win against Wits in the semi-final on home turf got them all the way to the final at the Danie Craven Stadium where history awaited.
This is the winning team: Keagan Coerecius, Jayleigh Arens, Johan Leonard, Christiaan Gates, Angelo Daniels, Reuben Noble, Zack Serfontein, Eben Verster, Guhann du Bois, Damien Oosthuizen, Schalk van Schalkwyk, Hannu van der Merwe, Michael Lamont, Hanro Venter, and Lachance Tchokonye Nana.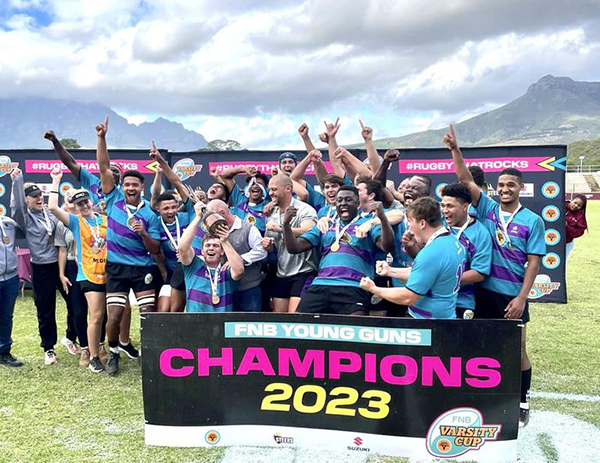 Photo: Ilanka Kleynhans