One of the North-West University's (NWU's) young researchers, Prof Rose Hayeshi from the Faculty of Health Sciences, was recently honoured by the South African Young Academy of Science (SAYAS) when she was inducted as one of their newest members.
This academy is the voice of young scientists in South Africa and aims to contribute towards solutions to national and global challenges facing society.
They provide a platform for young scientists to influence policy decisions; contribute towards the development of scientific capacity in South Africa through mentoring and role-modelling of future scientists; and foster opportunities for interdisciplinary collaborations among young scientists.
Prof Hayeshi is an associate professor at the Preclinical Drug Development Platform of the Department of Science and Technology and the NWU, and holds a PhD in biochemistry. She also has experience in the field of pharmaceutical sciences.
Among her peers she is well known for her global research and training in countries like Zimbabwe, Sweden, the Netherlands and South Africa.  She divides her professional career between research and being the study director for preclinical testing in compliance with good laboratory practice guidelines. Her research interests are preclinical testing for drug development, as well as drug metabolism and drug transport.
"I am very honoured to be selected as a member of the SAYAS. I view the academy as an exciting platform for like-minded young scientists making a difference to society outside their academic confines," she says.
"I enjoy mentoring young students who are just starting out in their scientific research careers and giving them advice beyond the lab to help them realise that scientists have a lot more to offer. This is something that I did not have during my early stages as a science student, and I think it is invaluable. I feel SAYAS will be a valuable platform for me to develop my strengths further in this regard, and contribute to science in and beyond the lab."
Prior to joining the NWU, she worked as a senior researcher at the Council for Scientific and Industrial Research (CSIR). In 2014 she was nominated for the Emerging Research Award at the CSIR Materials Science and Manufacturing Excellence Awards, and in 2011 she received the award for the Most Valuable Contribution in the CSIR Polymers and Composites.
Prof Hayeshi is a fellow of the Africa Science Leadership Programme and alumna of the Dialogue on Innovative Higher Education Strategies Programme of the German academic exchange service. She is also cofounder and codirector of Contemporary Africans Mentoring, a non-profit programme for young African women.
It is evident that the NWU is very proud of her. "The Faculty of Health Sciences is very proud of this special achievement of Prof Hayeshi," says Prof Jeanetta du Plessis, deputy dean for research and innovation at the faculty.  
"To be inducted as a SAYAS member is not something that is bestowed upon everyone. This is recognition of the potential of a young researcher to influence other young scientists, and of the direction of research in our country. It is a huge honour, and our best wishes accompany her in this journey."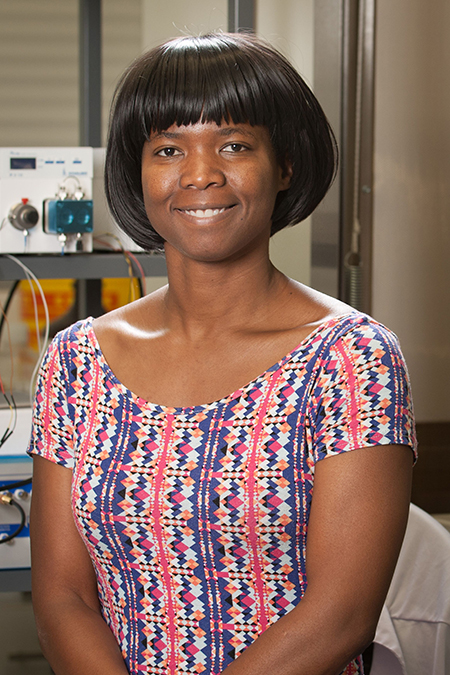 Prof Rose Hayeshi.