The new normal during the Covid-19 pandemic has necessitated things having to be done differently.
Look no further than the North-West University's (NWU's) novel approach towards its popular excursions. To ensure students do not miss out on these due to Covid-19 restrictions, the university is taking students on virtual excursions.
In the first completely virtual excursions, about 2 500 first-year BEd students from the Faculty of Education had the opportunity to engage and further develop their skills as effective facilitators by participating in one of 13 virtual excursions, each lasting two days.
The Faculty of Health Sciences and the Faculty of Law also launched their pilot projects this year, with 300 first-year students from each faculty participating in virtual excursions.
The virtual excursions took place from 16 August to 28 September and, according to one of the organisers, Prof Josef de Beer, were a resounding success.
"I believe we succeeded in setting the table for self-directed learning by using online learning and cooperative and problem-based learning principles," says Josef, research professor in the Research Unit for Self-Directed Learning (SDL) in the Faculty of Education.
Education students solve school's problems
Josef says the Faculty of Education built their virtual excursions around a problem that students had to solve.
The facilitators showed the students a video diary of a newly appointed school principal of an imaginary school that could be described as dysfunctional, as it faced many problems. These included unprofessional teacher conduct; lack of resources; uninspiring teaching methods such as chalk-and-talk approaches; and issues relating to inclusivity.
Students then met online in small-group breakaway rooms and, in cooperative learning fashion, had to brainstorm possible solutions to these problems. In the subsequent plenary sessions, groups then provided feedback. Neal and Josef provided live feedback to the students from a live-stream studio.
In this way, the students saw for themselves how complex the teaching profession is. At the same time, they gained hands-on experience of self-directed learning, including how to formulate their own learning goals for professional development.
Students become virtual citizens
The "Famine and Abundance" game was one of the highlights of the virtual excursions. Students received virtual money and digital passports, making them virtual citizens of either rich or poor countries. Through this gamification, they learned about social justice and issues of inclusivity.
Gamification is a design technique that creates game-like interactions for various tasks and scenarios.
"The benefits of using gamification include aiding cognitive and even physical development," Josef says. "It increases levels of engagement and accessibility, as well as self-directed learning."
He invites readers to experience the game.
Thumbs up from the students
Josef says 85% of all the students who participated rated the excursions between 8 and 10 on a scale of 1 to 10 (with "10" being excellent).
"The students gave us wonderful feedback. Some highlighted the joy of working in groups and learning from fellow students, while others said they were inspired to become 'super teachers'. Many believe the virtual excursions gave them a glimpse of what is possible in their careers."
The other main organiser, Prof Neal Petersen, says he was amazed by the quality and depth of the student feedback.
"It was exciting to constantly think on your feet and ensure 'withitness' in the online learning space." (Withitness is the teacher's capacity to be aware of what is going on in all parts of the classroom and to perceive the needs of their students with accuracy and care.)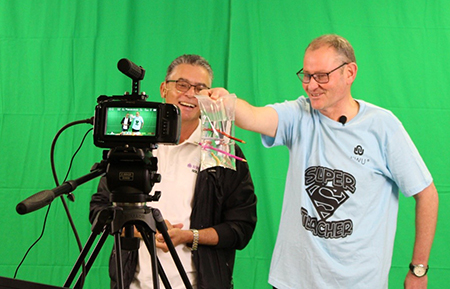 Prof Neal Petersen and Prof Josef de Beer in the "green room" of the studio, providing live feedback to students during the virtual excursions.
Students share their experiences
Students from the Faculty of Education share their experience of the virtual excursions:
"It was an eye-opening experience. It changed the way of traditional camps and allowed students from all over the country to interact virtually with each other from the comfort of their homes."
"I thought that I could already walk into a classroom and start to teach. I didn't think I still had so much to learn! I learned that children don't have the same needs in every school and you should take that into consideration when you teach. You must be innovative and find interesting ways to teach children in your specific subject."
"It was a life-changing excursion. As much as I wished that it could have been a face-to-face excursion, I enjoyed every little bit of the virtual excursion."
"It showed me that there is more to being a teacher than I had thought. I know now that a teacher is not only the person who writes on the blackboard, but rather the person who goes an extra mile to ensure the success of the learners."
"It was a great experience. I enjoyed the interaction with other students and meeting new people. It was interesting and fun."
Health students design their "Health Hero"
Students from the Faculty of Health Sciences could reflect on the characteristics, values and behaviours of responsible and responsive health professionals in South Africa.
Rhea Koch, instructional designer, says they used the online platform Thinglink to create an exciting, interactive virtual experience for the students.
"It depicted different scenarios of health and medical professionals interacting with each other and with patients. First-year students had to complete consecutive virtual challenges individually. They followed these tasks with interprofessional teamwork, where they had to design and present their own Health Hero on the basis of the input from all the team members. They could easily do this, irrespective of their skills levels, through the easy online drag and drop 'Storyboard That' platform."
"We received wonderful feedback from students, including insight into what it takes to be a health professional and realising that working in the health profession is more than just earning a salary, but also dealing with people's emotions," says Rhea.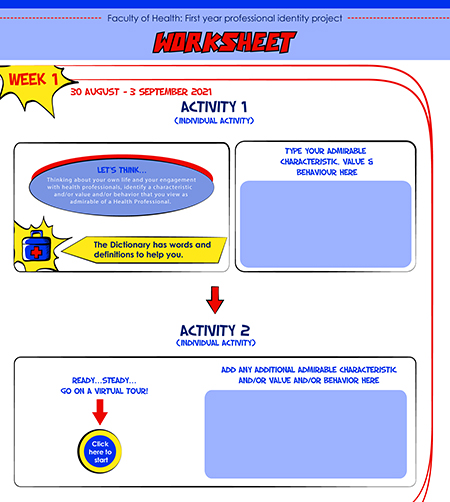 The student worksheet design gave students the opportunity to plan their activities and incorporate what they had learned into their final designs.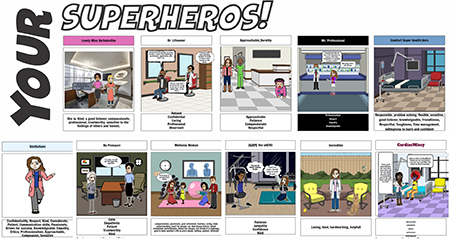 Law students learn through factual real-life scenario
The virtual excursion of the Faculty of Law was centred around the theme of social justice and diversity.
According to Adv René Koraan, one of the organisers, adjusting to a virtual platform was quite a challenge. "We knew that we would have to be extra creative. We managed to compile a very exciting interactive programme for the students to participate in. The ice-breaker session exposed students to a real-life factual scenario that required self-directed learning."
René says students worked in groups and could interact with the presenters in live question-and-answer sessions.
"I think we achieved one of the most important goals of the virtual excursions – to create a safe space where students could learn, interact, grow and be empowered."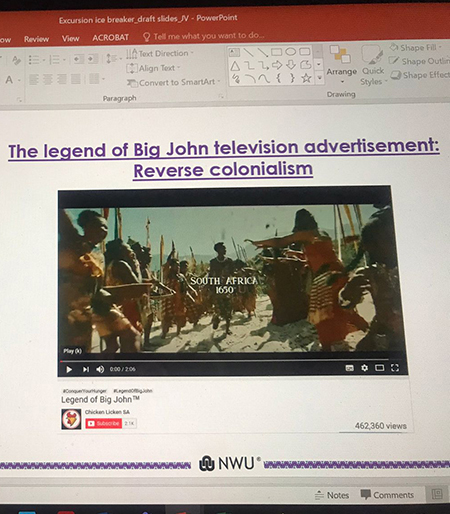 In the Faculty of Law's interactive presentations, students engaged with each other and learnt through multimedia and real-life scenarios.