Dr Sean McCallaghan, recently appointed director for student life on the North-West University's (NWU's) Vanderbijlpark Campus, says his vision for Student Life is to continue creating a differentiating and inclusive environment for students.
Dr McCallaghan, who holds a PhD in business administration and management from the NWU, will assume his role on 1 March 2023, succeeding the late Jacob Simango who passed away in June last year.
Admired for his readiness to mentor and support students, his appointment has been widely welcomed by the university community.
Before this appointment, Dr McCallaghan was the head of campus sports and acting director for student life.
"I'm very excited about the appointment. I am passionate about student life and the benefits associated with an active and vibrant student life. It's a tremendous honour to serve the NWU community, and I'm looking forward to the next chapter in this adventure," he says.
Looking ahead, he says to stay relevant, student life needs to be more engaging in the digital environment.
Prof Linda Du Plessis, deputy vice-chancellor for planning and Vanderbijlpark Campus operations, says campus management is pleased that he is taking on this role.
"Dr McCallaghan has been part of the campus community for a long time and was also a house parent at Faranani for several years. With his experience in the student environment and his commitment, I have no doubt that he is ready to take on this new role.
"The director for student life plays a critical role in campus stability and is vital in collaborating with all student structures to support our student centricity. We wish Dr McCallaghan all the best in his new role and welcome him as a member of the campus management."
Dr McCallaghan also has the enthusiastic support of the students, and Student Campus Council (SCC) chairperson Hlakaniphile Mdladla says he is the ultimate institutional citizen, loved by all students.
"He is Dr Sean McCallaghan to many, Dokotela to the colleagues from student life, and Dad to the SCC and its substructures. I am confident that Dokotela will fill the big shoes that Jacob left behind, and that Student Life is in good hands," says Hlakaniphile.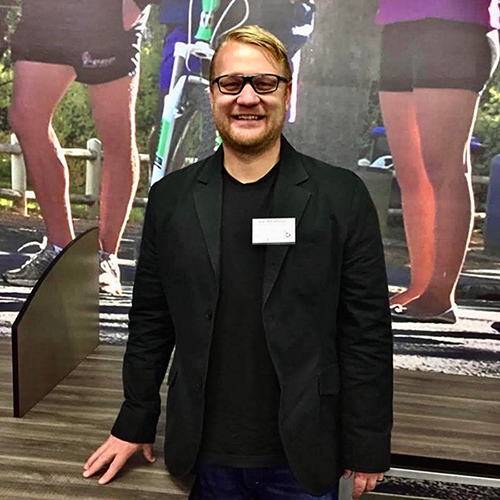 Dr Sean McCallaghan is ready for his role as director for student life on the NWU's Vanderbijlpark Campus.