With the world still facing the challenges posed by the Covid-19 pandemic, the NWU and its loyal donors came together to make life a little easier for a group of talented, hard-working students.
To assist our students with their studies, PPS handed over laptops to the value of R200 000 to last year's top Ikateleng-learners who are now registered across the NWU's three campuses.
The Ikateleng programme that provides supplementary teaching to high school learners is one of many community engagement projects proving that the NWU is dedicated not only to the academic excellence of its students, but also to providing social justice and supporting communities.
The laptops were handed over to the top achievers on 22 February 2022.
With excitement, Ben Zaaiman, senior manager for development and fundraising at the NWU explained that PPS is one of the loyal donors of the NWU.  He emphasised how proud the NWU is of these top achievers and that this donation from PPS is extremely valuable.
"We are thankful to PPS for their support and look forward to continue working with them in the future."
Ms Celeste Rossouw also praised the students. "This is the result of your hard work and dedication," she said.
Mr Leonard Haasbroek; Regional Manager for PPS, said that they are excited to be involved in this project. He explained that the PPS Foundation is a division focusing on community engagement – that is why they are part of this project. "We always look forward to working with NWU students because the NWU breeds exceptional students," he added.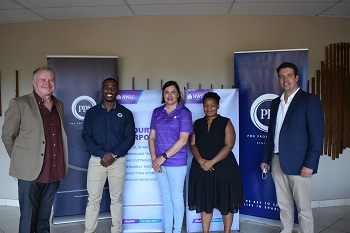 The team from the NWU fundraising office with the team from PPS.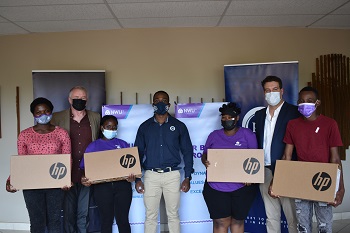 Some of the students who received  laptops.