By: Menziwa Msibi
The North-West University's (NWU's) Faculty of Theology organised a special alumni reunion on 10 May 2023 at the Mahikeng Campus.
The purpose of this event was to foster connections among the faculty's alumni, current students and staff, and to encourage their involvement in the NWU Convocation.
During the gathering, Bongani Mahlangu, an executive committee member of the Convocation, addressed the attendees, highlighting the benefits of joining the convocation.
He emphasised that being a convocation member provides access to valuable resources and enables individuals to stay informed about crucial issues affecting both graduates and students. Bongani stressed the importance of collective efforts in ensuring the university's sustainability for future generations, and that everyone's ideas and contributions are vital to make positive changes.
Prof Alfred Brundson from the Faculty of Theology shared his personal journey and passion for theology with the audience. He said he was drawn to the practical aspects of theology and subsequently developed an interest in its academic facets.
Having taught in the Faculty of Theology for more than 11 years, Prof Brundson expressed a strong desire to encourage young people to pursue theology as a field of study. He acknowledged that while it may not always be financially lucrative, theology is a calling that holds great significance.
Prof Sonia Swanepoel, deputy vice-chancellor for community engagement and Mahikeng Campus operations, talked about the principle of servant leadership, emphasising the importance of serving others.
"Leadership is not restricted to formal managerial roles and can be practiced in any setting. Embody the values and principles of servant leadership in your everyday lives, serve others, maintain honesty, and do not allow the pursuit of profits to overshadow your humanity and social responsibility," she said.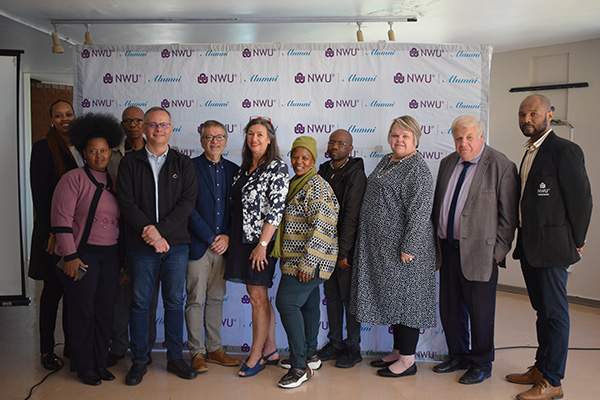 Attendees of the NWU Faculty of Theology's alumni reunion.