Although the North-West University (NWU) is dedicated to academic excellence and superior research, it is also committed to bettering people's lives in the communities it serves.
One way the NWU has been paying it forward is through its successful Ikateleng project that has been contributing to the development of discerning learners for the past 32 years.
This project empowers Grade 10 to 12 high school learners from disadvantaged backgrounds by offering supplementary teaching for mathematics, economics, accounting, physical science, life sciences and English. Currently the project involves 1 650 learners through its centres in Potchefstroom, Vanderbijlpark, Mahikeng and Lichtenburg.
Well-known insurance, investment and financial planning company Sanlam noted Ikateleng's great success and have been supporting this deserving project by donating of close to R10 million. In 2019 the Ikateleng project received R 2,2m, and this year Sanlam will donate R 3,5m. An estimated R 3,75m will be donated for 2021.
According to Celeste Rossouw, senior stakeholder specialist at the NWU, this significant donation has given the NWU the opportunity to touch more lives by opening two news centres in Mooi Nooi and Kimberley this year.
"The NWU is extremely grateful for the donation," says Celeste. "This will help us to empower hundreds of learners to qualify for higher education and to change their lives for the better."
A total of 620 Grade 12 learners are part of the Ikateleng project this year, and the NWU looks forward to welcoming them on its campuses in 2021.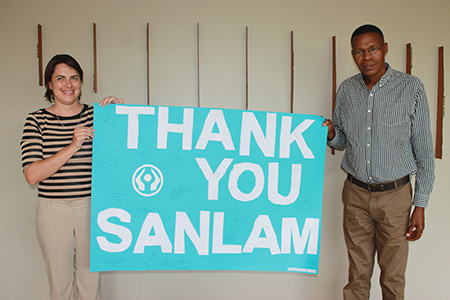 Celeste Rossouw and NWU vice-chancellor Prof Dan Kgwadi proudly display a thank-you poster that was signed by all the Ikateleng learners and NWU management.