A group of North-West University (NWU) students recently participated in an Industry Solutions Challenge at the Southern Africa Telecommunication Networks and Applications Conference (SATNAC).
For this challenge, postgraduate and undergraduate students had to form teams across institutions and/or campuses, participating in one of four industry-inspired challenges – provided by SATNAC's top sponsors.
NWU students Karabo Makau, a second year in BCom information systems, Frederick Steyn, a third year in BSc computer science and mathematics, and Busisiwe Hlophe, a first-year software development student at WeThink Code Institution in Boksburg, tackled challenge topic two. Their innovative solution for "Disruptive alternative energy solutions for telcos – combatting the effects of loadshedding and ensuring cost efficiency" earned them the top spot.
For their winning idea they each received a device, a one-year internship at Openserve – the sponsor of the challenge – as well as an Openserve day tour at their software engineering facilities.
Karabo explains that their proposed solution involved the development of an optimised network comprising data centres, equipment buildings, and environmentally sustainable sources of energy.
"These elements would be interconnected using wheeling, and in certain instances, private cables. Additionally, we incorporated artificial intelligence to optimise electricity utilisation within the network. This integrated approach aimed to ensure both cost efficiency and environmental sustainability," adds Karabo.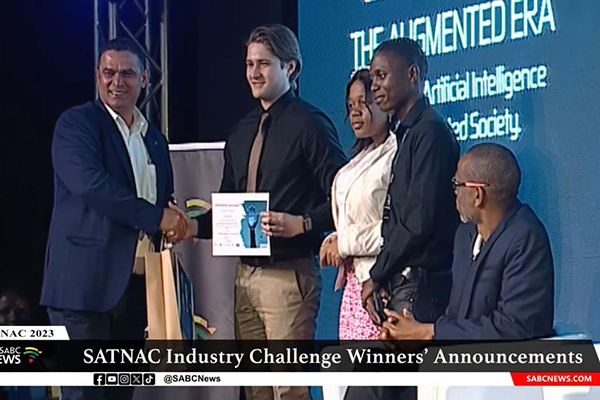 Pushkar Gokhale, chief strategy and digital officer at Openserve, congratulates the team.