Dr Piet Ntema, a statistics lecturer on the North-West University's (NWU's) Vanderbijlpark Campus, has authored a new book to inspire individuals who have encountered obstacles and setbacks in their lives.
Titled The Sunrise Of The Underdogs, Dr Ntema says the book is dedicated to all those who have been counted out, underestimated and told that their dreams were beyond reach.
Dr Ntema, who holds a BSc and an honours degree in statistics, a higher education diploma, a master's degree in computer science and a PhD in operational research, says writing the book was an amazing experience.
Since he also faced numerous obstacles on his path to success, he hopes that his book will encourage readers to never give up on their dreams and to keep pushing forward, no matter how difficult the journey may be.
He and his five siblings were raised in poverty by a widowed mother who was a domestic worker. However, they persevered and today all but one of them are graduates, with his older brother Lejone Ntema being a university professor.
"Through this book I aim to inspire others to persevere in pursuing their dreams, even when the path ahead is filled with difficulties. It's important to understand that obstacles and setbacks are a normal part of any journey. In fact, it's often by overcoming these challenges that we discover our true strength and resilience," he says.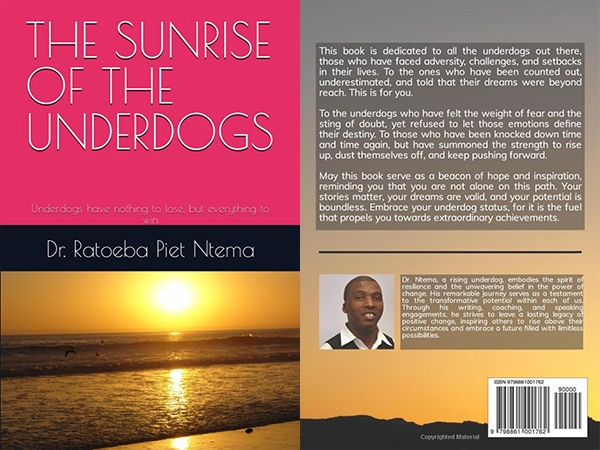 The Sunrise Of The Underdogs is available at local bookstores and online retailers such as Amazon books.