A delegation from the North-West University's (NWU's) School of Accounting Sciences recently attended the International Tax Conference on Distributive Tax Justice in the Global Economy.
The conference, hosted by the University of Pretoria's Department of Taxation, brought together leading experts from around the world to discuss the challenges and opportunities of distributive tax justice in the 21st century.
It aimed to connect experts from diverse disciplines, including law, economics, accounting, psychology and sociology, and to explore how tax and tax policy may serve as a tool to promote distributive justice.
Senior lecturer Kurt Naicker says the conference was well-organised and informative, and that keynote speakers Benjamín Sevilla Bernabéu and Estrella del Valle Calzada provided thought-provoking insights into the key issues in distributive tax justice.
"The scale of income and wealth inequality, already at dangerously high levels in both developed and emerging economies, has more recently been exacerbated by the Covid-19 pandemic and other war and climate-induced crises. Research shows that over the last 10 years, the richest 1% of humanity has captured more than half of all new global wealth (Oxfam, Survival of the Richest, 2023)," he explains.
"I am particularly grateful to the Department of Taxation for hosting such a stimulating and informative event. I met many colleagues and peers from across South Africa and the world, and I look forward to continuing the conversation on distributive tax justice in the years to come."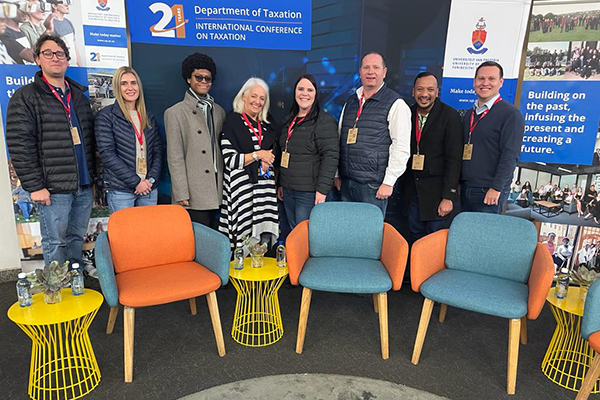 A delegation from the NWU's School of Accounting Sciences recently attended an international conference on distributive tax justice. From left are Herman van Dyk, Leanie Groenewald, Sampi Khatlaki, Prof Karina Coetzee, Joani Volschenk, Daan van Romburgh, Kurt Naicker and Herman Viviers.