By Phenyo Mokgothu and Nolwazi Xulu
The North-West University's (NWU's) Faculty of Law, in collaboration with the Commission on Restitution of Land Rights, hosted a guest lecture titled "Restitution of Land Rights in South Africa" on 25 May 2025. The lecture was presented in a hybrid format, with the physical event taking place on the NWU's Mahikeng Campus.
The keynote speaker at the lecture was Nomfundo Ntloko, chief land claims commissioner in South Africa.
According to Nomfundo, land rights and restitution in South Africa have been a complex and contentious issue for decades now.
"The legacy of forced removals and dispossession left a significant portion of the population, particularly black South Africans, without access to land and resources," she said.
"In response, the South African government implemented various policies and legislation to address land reform and restitution. The Land Restitution Act of 1994 aimed to restore the land to those who were dispossessed, but progress has been slow and challenging.
"Efforts to balance restorative justice with economic stability and food security continue, with debates surrounding expropriation without compensation and equitable land distribution. Achieving comprehensive land rights and restitution remains a critical task for South Africa's social and economic transformation," she explained.
She further said that this is an emotive topic for the affected and shared advice on the entitlement procedures that must be taken to redistribute the land.
"We are conscious of the pain and suffering visited upon the victims of both colonial and apartheid land dispossessions, and therefore the framers of the first democratic constitution prioritised the enactment of the legislation that would enable the provision of redress to victims of such violations. Hence the use of Section 121 of the Interim Constitution and Section 25(7) of the final SA Constitution and the Restitution Act no 22 of 1994.
"However, we have made tremendous progress since the inception of land restitution between 1995 to date, with a total of 82 976 claims settled," added Nomfundo.
Prof Moses Phooko from the Faculty of Law says the issue of land remains one of the topical issues.
"The main reason to collaborate with the commission was to create awareness on how communities that were affected by land dispossession could lodge their claims through the commission," he explains.
"Also, the Land Law and Registration module forms part of our curriculum, and this was an opportunity for our students to get a practical perspective on how these
things that we discuss in class, specifically Section 25, is dealt with in reality," adds Prof Phooko.
More about Nomfundo Ntloko
Nomfundo Ntloko is an admitted attorney of 25 years, and is South Africa's first female chief land claims commissioner. She is a human rights activist with extensive working experience at functional and leadership levels of non-governmental organisations as well as the public and private Sector.
Her most notable appointments have been that of chief land claims commissioner, acting judge of the North Gauteng Division of the High Court, and director of the Legal Resources Centre in Johannesburg.
She holds various qualifications, including a postgraduate certificate in housing policy development and management from the University of Witwatersrand, a diploma in advanced labour law from Unisa, a master's degree in business management from the Oral Roberts University of Tulsa Oklahoma in America, an LLM from the University of Cape Town, and a BProc degree from the University of KwaZulu-Natal.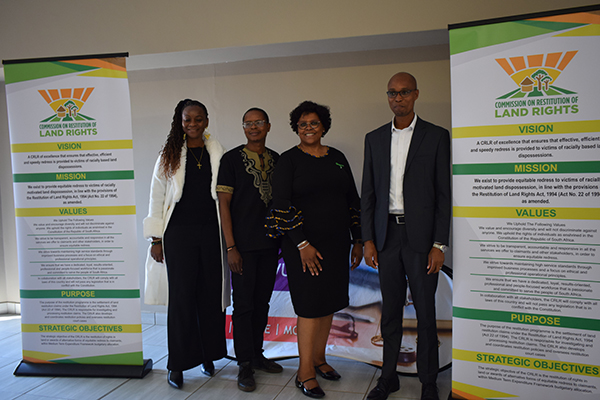 From left are Faith Brewin, Prof Boitumelo Mmusinyane, Nomfundo Ntloko, and Prof Moses Phooko.