The extension and renovation of the Education Library (C6c) on the Potchefstroom campus will start in January 2022. Site handover will take place on 11 January and the estimated time of completion is July 2022.
The spaces of the current Education library will be renovated and a double storey extension will be added to the front of the library. The ground floor will host a copy shop and the new EduLab, with connected working space for 104 students.
Six group study rooms will be equipped with the latest technology. Modern wimpy-like benches will be installed and throughout the area will be ample power plugs for laptops and other mobile devices. The first floor will host computer workstations and individual study cubicles.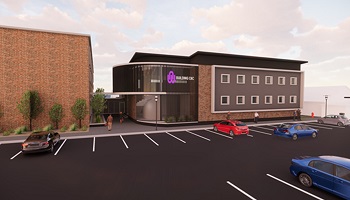 A proposed view of the Library.