As part of its community engagement and stakeholder relations, the School of Christian Ministry and Leadership at the North-West University's (NWU's) Vanderbijlpark Campus recently partnered with church leaders in the Vaal area to create a forum to recover and strengthen ethical and moral leadership within the church and community.
The inaugural meeting of the forum took place at the Free Baptist Church in Vanderbijlpark, during which church leaders openly expressed their views about what is happening in churches. They also discussed the need to create a space for conversations on how to regain church respectability and reestablish the church as an effective leader of society. This interdenominational structure plans to meet every month.
According to Prof Vhumani Magezi, who is the coordinator for community engagement and stakeholder relations within the Faculty of Theology, local church leaders reached out to the university asking for a partnership and support to facilitate this initiative.  
Prof Magezi says this initiative aims to recover church respect in the eyes of the public.
"The platform is a space for exchange where church leaders can come together to think things through. It is a space for mental and professional development to help them understand Christian issues within the context of the contemporary challenges of our time.
"We also want the platform to be a space for spiritual nourishment where we can share notes for ongoing practical pastoral ministry development for effective ministry in our communities," he adds.
Prof Magezi explains that the church is currently at its lowest with regard to general respectability in the eyes of the public. Hence, something needs to be done to change this.
"There have been many events that resulted in the tainting of the church's image. As religious leaders we want to do something," says Rev Sibusiso Dladla, organiser of the inaugural meeting.
"We want to deal with issues such as how church leaders can rise above the low ethical standards set by others in society, and we want church leaders to be seen as people with integrity whom society can look up to. We want the church to be a moral compass people can turn to when they are unsure of what is right and wrong."
According to Prof Magezi this initiative is part of the Faculty of Theology's community engagement role.
"We see this initiative as a convergence of the university and its communities to jointly address the issue of morality and leadership. We want people to understand that the university serves the community, and will work together to deal with practical life issues affecting them."
Pastor Sibusiso Dlala of the Free Baptist Church says they are grateful to the NWU for this platform to hone their skills. "Within this short space of time, we have learned so much, and we would like to see this initiative expand to other areas."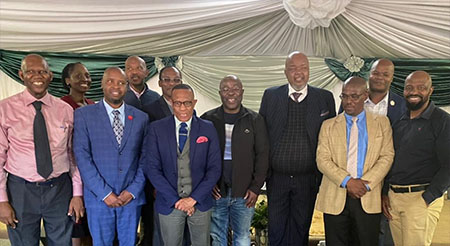 Some of the attendees of the inaugural meeting.