Second-year social work students from the North-West University (NWU) are annually gaining much needed practical experience by participating in mock trials.
This year second-year students from the NWU's Vanderbijlpark Campus participated in a mock trial practical on 26 and 31 October 2022 at the Vanderbijlpark Magistrate Children's Court.
Prof Elmien Truter, an associate professor from Social Work and researcher at the research focus area Community Psychosocial Research (Compres), says the idea to expose social work students to mock trials started around 2014.
She noticed a gap in the curriculum early on in her academic career at the NWU, fresh from full-time child protection social work. "I noticed that our students did not get any real-life practical training on the realities of protecting children in the court or legal system. That's when I reached out to my legal colleagues and director, from whom I received great support to start this initiative for second-year social work students on the Vanderbijlpark Campus.
"After the NWU's restructuring, the Mahikeng and Potchefstroom campuses adopted the same practice," she adds.
According to Prof Truter, the relationship with the Vanderbijlpark Children's Court was established years ago. After leaving full-time child protection work as a practising social worker when she joined the NWU in 2013, she still continues her part-time practice.
"I often appear in children's courts as a designated social worker and I have longstanding relationships with the staff there. Ms Reyneke, the new managing presiding officer, has been very supportive of our teaching endeavours in the children's court," she adds.
The legal expert who puts the learners through their paces is attorney Johan van den Berg, whom she met during one or two child abuse cases that she managed.
He is a family law specialist with extensive litigation experience and is passionate about fighting for the rights of children and parents. "Johan imparts practical insight when he 'cross-examines' the students. He also takes extra care to view their court documents and always provides detailed written commentary on their court reports; it is just invaluable," says Prof Truter.
Prof Truter emphasises the importance and necessity of students participating in these practicals. "It is the only opportunity they will have in four years to apply the knowledge they have gained about relevant legislation, child abuse, and children's needs to a court report, and give oral testimony. In addition, they can practice cross-examination and develop a variety of soft skills that will assist them in succeeding in the legal system."
"Every year, they are so nervous and fearful before the event, but after they have gone through it, they always have more confidence," she adds.
Prof Truter says the court report (based on real social work child maltreatment case studies), contributes 25% towards a student's participation mark, and the court conduct they exhibit during mock trials, which she evaluates while acting as presiding officer, also contributes 25%.
"It is important to that our students are prepared for the harsh realities of child protection social work in South Africa," she concludes.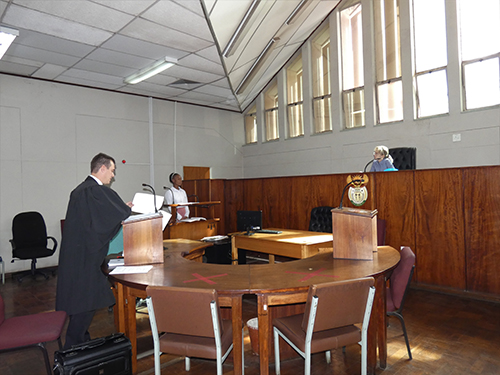 Mock trial in action: Attorney Johan van den Berg questions a second-year social work student while Prof Elmien Truter acts as judge at the Vanderbijlpark Magistrate Children's Court.