Ontiretse Motingwa and Nolwazi Xulu
The Centre of Teaching and Learning (CTL) on the North-West University's (NWU's) Mahikeng Campus recently invited students from all faculties to a three-day launch of the One Button Studio, Podcast Studio, and Makerspace at the campus library.
The One Button Studio makes video recording a breeze, with no previous video production experience necessary. It allows students to make high-quality and professional video projects with little light and camera knowledge.
In the same way, the Podcast Studio makes it easy to create podcasts, and the Makerspace provides the user the opportunity to create, invent, prototype, design and build by using a variety of high and low-tech tools.  
"The Makerspace, Podcast and One Button Studio will enable students and academics to enhance teaching and learning," says Zwelakhe Nyiko Mokoena from CTL.
"These facilities are not limited to academic purposes only, and students can also utilise them for personal use," Zwelakhe adds.
"I believe that the One Button Studio is a fantastic endeavour. Introducing an al-inclusive and user-friendly studio setup is a brilliant opportunity for all creatives to bring their ideas into existence," says Hope Asivhothe Manamela, an honours student in communication.
The One Button Studio officially opened its doors to students on 19 September 2022. The studio is open from 10:00 to 16:00 on weekdays and booking a 50-minute slot can be done via https://nwu.libcal.com/.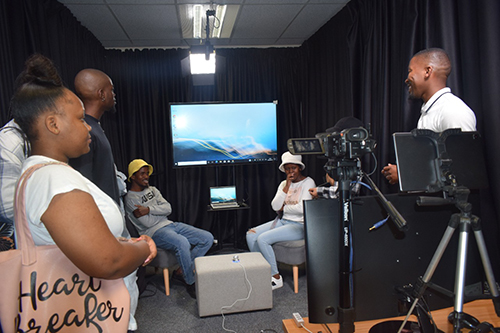 NWU Mahikeng students check out the One Button Studio.