On Thursday, 25 November 2021, the world's greatest science communication competition hosted its final showdown, where 10 young researchers and professionals battled it out for the title of world's best science communicator in the FameLab International 2021 online final.
The North-West University's (NWU's) Letago Kgomoeswana represented the university and South Africa, and did her country and the NWU proud when she was announced as runner-up, along with Samantha Nixon from Australia. Alex Cloherty from the Netherlands was announced global champion.
"I am beyond overwhelmed. As a master's student who went up against PhD students who are seasoned scientists and engineers, it's truly humbling to make it this far," says Letago, who is doing her master's degree in climatology at the NWU.
"I have no doubt that I've represented South African science, the NWU and my home province of Limpopo to the best of my abilities. Above all, I'm hoping that my journey inspires young scientists to break barriers and get their work out there. The world is ready for us," she adds.
Letago says she enjoys her research immensely, and is delving deeper into how indigenous knowledge can contribute to food security in Africa.
"It's been such an amazing experience to go into various communities and to speak to people – not only about their everyday challenges, but also their everyday solutions.
"Science is so much bigger than just working in laboratories, and being out in our communities has again confirmed this."
2021 marks the 15th and final year of the FameLab International competition created by Cheltenham Festivals and delivered globally in partnership with the British Council. It involved more than 40 000 participants and 200 partner organisations supporting FameLab in over 40 countries.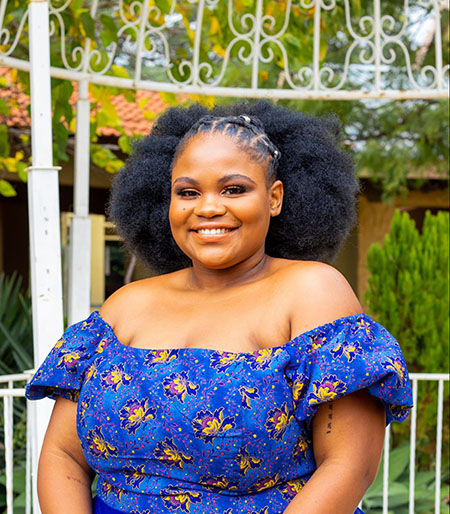 The NWU's Letago Kgomoeswana is a runner-up in the FameLab International competition.