The North-West University (NWU) welcomes its newly elected Student Representative Council (SRC) that officially took office on 6 September.
The incumbent SRC will serve for a period of one year under the leadership of the SRC president, Yikumba Andreas, a graduate in Management Sciences and Marketing Management, and a current bachelor's degree student in Economic Sciences with Economics and Risk Management.
"The NWU management and staff are committed to working together with the SRC and engaging in various areas that affect our students," says Dr Bismark Tyobeka, principal and vice-chancellor.
These areas include important issues such as financial assistance, transformation and inclusivity, creation of a safe, conducive and vibrant student environment, preparing students for employability and entrepreneurship opportunities, and student wellness.
"I am encouraged by the calibre of student leaders we have at the NWU." Dr Tyobeka says the university will, as outlined in its teaching and learning strategy, continue to strive to produce graduates who are responsible and engaged members of society, knowledgeable and highly educated professionals, critical thinkers who are innovative and adaptable, principled servant leaders and skilled collaborators, as well as team players.
"It is crucial that those who serve in student leadership positions understand the responsibility and accountability the positions come with. We are in the process of establishing a student leadership academy to offer leadership training to students. The student leadership academy will not only focus on issues in the student leadership and governance environment, but will also prepare students for a life in the boardroom."
Dr Tyobeka congratulates the SRC members on their election. He says the NWU is looking forward to taking hands with them to ensure healthy and well-functioning campuses. He concludes that together, students and management can elevate the NWU community to greater heights and continue to create a vibrant student experience.
Mr Bert Sorgdrager, chairperson of the NWU Council, says Council is looking forward to working with the new SRC in the governance structures and committees to ensure success and sustainability.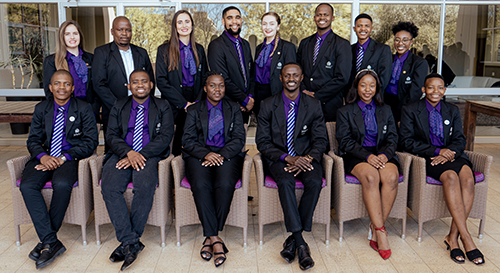 The North-West University's incumbent SRC. At the back are Beatha Groenewald, Ntokozo Mlotshwa, Anneri du Preez, Franklin Kriel, Carissa de Klerk, Kananelo Mlangeni, Thapelo Tshabalala and Nomvula Chasakara. In front are Boitumelo Raborolo, Ramokhele Makhothi, Koketso Ella Mogoshoa (acting deputy-president), Yikumba Andreas (president), Hlankaniphile Mdladla (secretary-general) and Constance Baloyi.