The North-West University (NWU) hosted its inaugural Vice-Chancellor's Science Day on 31 July 2023 at Mabeskraal near Rustenburg as part of National Science Week.
This landmark event served as a platform for fostering partnerships and collaboration among educational institutions, government departments, private companies, communities, and other stakeholders in the North West province.
Its primary focus was to stimulate a passion for science in high school learners and to encourage them to pursue careers in the science, technology, engineering, and mathematics (STEM) fields.
"As a product of this area, I know that in the heart of these villages lie countless bright minds, brimming with potential and a thirst for knowledge. However, the limited access to STEM programmes and other disciplines has held many learners back, preventing them from fully realising their dreams and aspirations," said Prof Tyobeka, NWU vice-chancellor.
The Science Day – themed "Transforming Lives Through Evidence-Based Science" – featured a diverse array of activities designed to engage and inspire young minds, and approximately 2 000 learners from the area and nearby villages attended the event.
"You will see some of the demonstrations from our exhibitors and university staff members, which we hope will spark the interest of some, if not all our learners to pursue careers in these disciplines and to come back to the communities with ground-breaking solutions," said Prof Tyobeka.
The day included exhibitions and science shows showcasing scientific breakthroughs and their impact on society, and a science competition which challenged learners to think scientifically and to hone their critical thinking skills. The event also included a career fair which provided valuable insights into various STEM professions.
According to Prof David Modise, executive dean of the Faculty of Natural and Agricultural Sciences, the idea is to have this event annually, targeting rural areas in the North West province.
"We want to showcase that through science, everything is possible. The NWU's vice-chancellor, Prof Bismark Tyobeka, hails from this area, and he is a renowned nuclear scientist. He is proof that you can accomplish great things, no matter where you are from. What is important is to take advantage of opportunities like this," said Prof Modise.
Executive mayor of Moses Kotane municipality Cllr Nketu Mkotswe said says she is glad that the NWU chose their district for the event. "Learners, please take advantage of this opportunity and explore science."
Representing the Department of Education, acting superintendent-general Dr Shadrack Mvula said the department is very supportive of ventures such as this and will partner with the university going forward.
Prof Tyobeka added that the opportunities and partnerships that the NWU seeks to create for learners are not merely about opening doors of higher learning for individual success.
"These opportunities and partnerships are also a collective endeavour to find scientific solutions and improve the lives of many families in the communities that we serve.
"Through these partnerships, we envision a future where evidence-based science becomes a driving force behind positive change, creating employment opportunities and uplifting communities."
Other notable attendees of the day included Dr Ben Bole, head of the Cooperative Governance and Traditional Affairs department, Dr Sibusiso Chalufu, NWU executive director for student life, Clement Manoko, NWU executive director for corporate relations and marketing as well as Kgosi Maotwe and Kgosi George Mabe.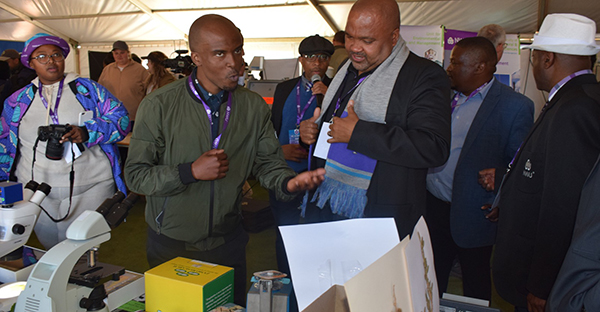 Prof Tyobeka looks at the exhibition stalls at the Science Day.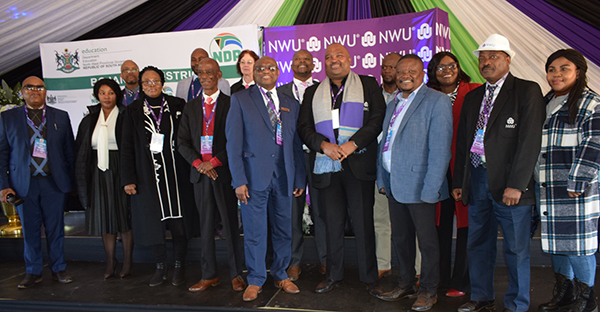 Some of the dignitaries who attended the inaugural NWU Vice-Chancellor's Science Day.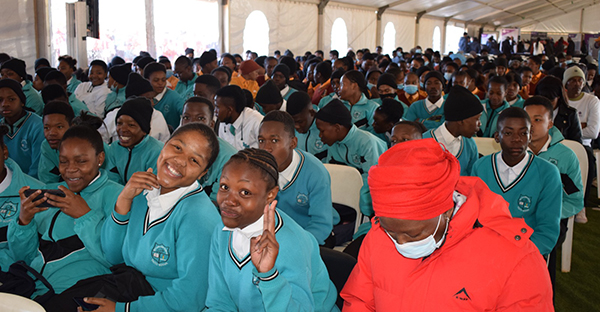 Approximately 2 000 learners from in and around Mabeskraal and nearby villages attended the event.