North-West University (NWU) vice-chancellor Prof Dan Kgwadi and the Alumni and Convocation office hosted a leadership talk with alumni who have recently been elected as mayors and speakers at municipalities on 8 December.
There are currently 11 mayors and three speakers who are NWU alumni elected to lead municipalities across South Africa after the local government elections in November.
"The purpose of this talk – themed 'Leaders in Conversation' – was to build and strengthen the university's partnership with local government, and to tackle issues of common interest," explains Clement Manoko, executive director of Corporate Relations and Marketing.
"Furthermore, this was an opportunity to acknowledge and celebrate our alumni who are tasked with steering local government for the next five years."
Prof Leon Jackson, an academic from the NWU Business School, led the conversation on the role of leadership in Africa.
Prof Kgwadi said the NWU is proud of the calibre of leaders it has produced thus far, and wished them well.
"We want to discuss with you the challenges you think local government is facing, and remind you of your role as ambassadors of the NWU," said Prof Kgwadi.
"We vow together that, after your five-year term, you will walk tall, knowing you have contributed to the improvement of local government and its service to the community."
NWU Alumni who are mayors of municipalities
Tshepiso Mphehlo - Mahikeng Local Municipality
Tshireletso Marabutse - Kagisano Molopo Local Municipality
Sebang Motlhabi - Lekwa Teemane Municipality
Tumisang Gaoraelwe - Greater Taung Municipality
Kagisho Dante Sonyoni - Sol Plaatje Local Municipality
Norah Mahlangu - Tswaing Municipality
Dina Modukanele - Ramotshere Moilwa Municipality
Stokie Mokgothu - Ditsobotla Local Municipality
Tlhoare Motshoeneng  Mafube Municipality
Sipho Radebe - Emfuleni Municipality
Gaba Ka Qhele - JB Marks Municipality                                          
NWU alumni who are speakers
Koketso Mogomotsi – Rustenburg Local Municipality
Pretty Moirwagale - Kagisano Molopo Municipality
Gagoangwe Ofentse Mathe - Mahikeng Municipality
Click here to watch the event.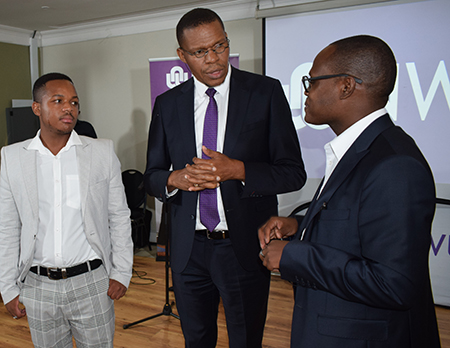 NWU vice-chancellor Prof Dan Kgwadi (middle) in conversation with Mr Tshepiso Mphehlo, mayor of the Mahikeng Local Municipality (left), and Mr Kagiso Sonyoni, mayor of the Sol Plaatje Local Municipality (right).