On 11 September 2019, 16 students from the North-West University (NWU) found themselves sitting on a deck, watching the sunrise over a hill covered in lush vegetation. As the crisp fresh air filled their lungs, Piet Botma, manager of Hillcrest Game Estates, briefed them on their lessons for the day.
Situated in the North West Province, Hillcrest Game Estates forms part of a large farming enterprise.
The lucky fourth-year BSc Agricultural Sciences students had the opportunity to get first-hand experience on what it takes to run a game farm. Not only did they have to dart a number of sable antelopes and load them into a vehicle for DNA sampling, but they also had to measure the antelopes' horns and check their tracking devices.
Recently joining the NWU, animal sciences lecturer Prof Paul Lubout says a number of South African graduates struggle to find employment after obtaining their qualifications because they do not have the necessary practical experience.
"Agriculture and animal sciences is an applied science, and students need to have practical experience for them to be employed on a farm or in the farmer support sector – they have to be able to effectively apply the science they were taught at university," says Prof Lubout.
Shortly after his appointment, Prof Lubout decided to collaborate with a number of commercial farmers and industry partners to provide his students with the practical experience they needed. This lead to the creation of a practical training partnership between commercial farmers/service providers and the NWU. This partnership offers students a combination of on-farm practical training during tuition, and internship opportunities after qualifying.
Prof Lubout says Hillcrest has always been dedicated to educating the public about wildlife. "Giving our students the opportunity to get this exposure will assist them in making more informed decisions and representing South Africa's game community better internationally."
The students walked away with a wealth of information and experience, and will be visiting similar farms throughout the year.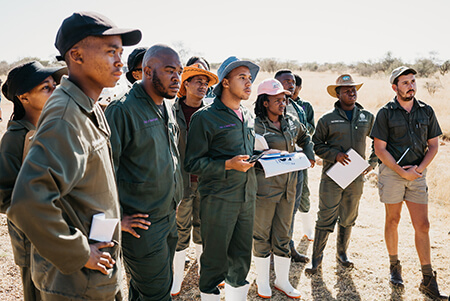 This group of fourth-year BSc Agricultural Sciences students from the NWU recently had the opportunity to visit Hillcrest Game Estates where they gained valuable practical experience.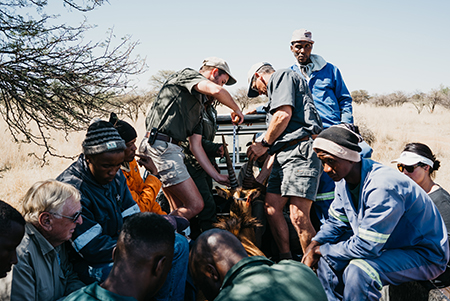 Getting first-hand experience on what it takes to run a game farm, students assist staff members from Hillcrest Game Estates staff members to measure the horns of a sable antelope.