North-West University (NWU) PhD student Bongiwe Zungu walked away with the spoils at the 2022 national Three Minute Thesis competition.
Bongiwe from the Faculty of Natural and Agricultural Sciences represented the NWU along with Heleen Dreyer from the Faculty of Health Sciences.
They competed against 18 participants from Rhodes University, the University of KwaZulu-Natal, the University of Pretoria, University of the Western Cape, Wits, Unisa, the University of the Free State and the University of Johannesburg.
Bongiwe's topic for her 3M thesis was "Bio-developed nano fertilizers for improved crop productivity", and it scored her the prize money of R16 000.
Her thesis focused on the Imphepho plant extract that is used to synthesize nanofertilizers – very small particles in size as compared to bulky fertilizers – which are used on maize seeds.
She says when she was announced the winner of the national 3MT, she cried tears of joy.
"I thought it was a dream. I could not believe that I was part of the top three, let alone the winner. I feel very happy and excited.
"Thank you to the NWU for granting me the opportunity to represent the university in the nationals," adds Bongiwe.
She says the competition has taught her how to explain her work in three minutes in layman's terms.
"It is the greatest experience ever. It made me feel good, gave me validation and boosted my confidence as a researcher.
"Winning this completion also encouraged me to keep on working hard to complete my studies. This is a confirmation that anything is possible through my almighty Shembe UNyaziLweZulu if I do my best."
About Three-Minute Thesis Competition
The Three-Minute Thesis Competition (3MT) is an annual competition held at 200 universities around the world. It is open to PhD and master's students and challenges participants to present their research in just 180 seconds, in a way that is understood by an audience with no background in the research area. It aims to help participants develop presentation, research, and academic communication skills, as well as to support the development of research students' ability to effectively explain their work. The Three-Minute Thesis competition originated from the University of Queensland, Australia, and has now become an annual event in South Africa.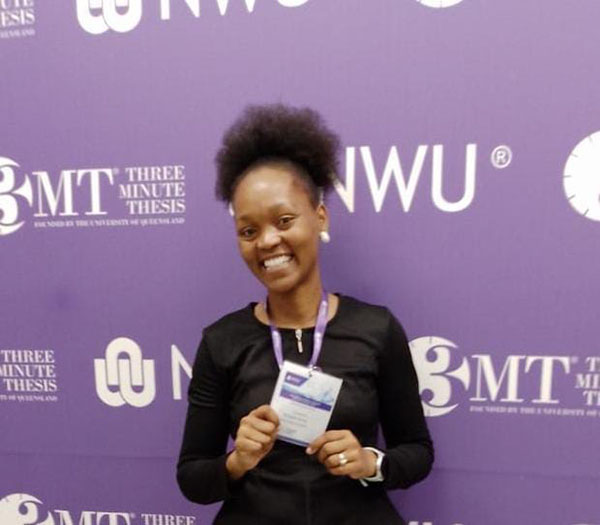 Bongiwe Zungu