North-West University (NWU) master's student Obriel Maposa has been awarded a Golden Key Humanitarian / Service Response Award.
This award is presented to Golden Key International Honour Society members who display an exceptional commitment to service.
Obriel is among nine Southern African category winners who received Golden Key International Honour Society Awards.
Obriel says Golden Key members are invited to apply for the various award categories, thereby affording them the opportunity to win the relevant award and accompanying cash prizes.
Since he is involved in community service projects, he applied for the Humanitarian / Service Response Award and walked away with the spoils, including a cash prize of 500 USD.
Obriel's involvement at an Early Childhood Development (ECD) centre in Mahikeng earned him this award. "In 2021, through the Do More Foundation, a Golden Key Southern Africa partner, I learned more about ECDs that are struggling to pay their staff and feed children.
"I then asked our primary advisor, Dr Elizabeth Smit, to use her contacts in the social work space to help my team to identify ECDs in Mahikeng that are not funded by government," he explains.
They then joined hands as NWU students to create an ECD Covid-19 Food Relief project.
"I worked with five volunteers and together we started to help deliver food to these ECDs," says Obriel.
"The call to be a Golden Key International Honour Society member means to accept the responsibility of making a difference in a very tangible way to the well-being of our university and immediate community. I am extremely proud of what my team has accomplished and I hope this award will propel us to expand our efforts," concludes Obriel.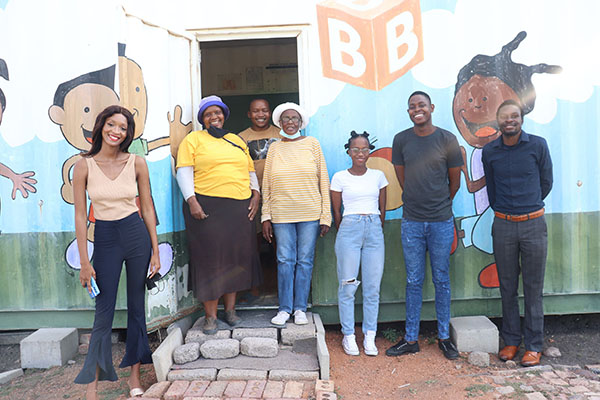 Obriel (far right) and his team at one of the ECD Centres they delivered food to.