Lesego Motlhankane, a third-year BEd student on the North-West University's (NWU's) Potchefstroom Campus, recently published an anthology of Setswana poetry titled Pitsana ya Poko.
The book of poetry, a collaboration between Lesego and renowned author Kabelo Kgatea, consists of 40 poems and is published by Nick Medupe Productions and Publishers and the Penebotshelo Writers Foundation.
This project started after Lesego, who hails from Ganalaagte, won first prize in the Setswana category of the 2020 Avbob Poetry Project, an annual poetry competition. Avbob's project creates a platform for South Africans to submit poetry themed around love, hope, death and birth in any of the country's 11 official languages. 
Lesego also took home a R10 000 cash prize and a book voucher valued at R2 500.
Lesego says he is now collaborating with Gomolemo Melelwe on another poetry book titled Letsema la Mabotlana.
"I am fortunate to have great mentors such as Kaka Mokakale, Karabo Mangwekea, Kelebogile Kgatle, Dr Dolly Dlavane and well-known writer Kabelo Duncan Kgatea," he says.
Lesego is a member of the National Writers Association of South Africa and the Penebotshelo Writers Foundation and plans to enrol for an honours degree in Setswana once he completes his undergraduate studies at the NWU.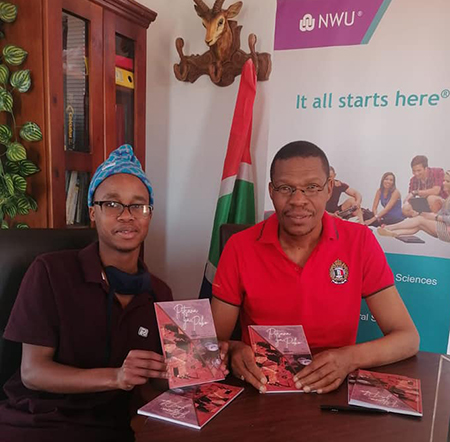 Lesego Motlhankane and NWU vice-chancellor, Prof Dan Kgwadi, proudly display Lesego's poetry book, Pitsana ya Poko.