North-West University (NWU) final-year LLB student Thapelo John Segoabe has put pen to paper to share his thoughts on academic excellence. 
The 22-year old Thapelo hails from Madikwe township and his academic prowess speaks for itself.
Before he enrolled for his LLB degree, he completed a BCom Law degree at the NWU and boasts 15 distinctions in his tertiary studies thus far. Thapelo also secured four distinctions in Grade 12.
Thapelo decided to write his book – titled A Guide to Academic Excellence – after seeing so many learners with limited options struggling academically.
"I decided to take action and try to help the learners in our country by writing this book," he says.
"The book sheds light on how I got my distinctions in matric and aims to inform and motivate readers to prosper in their academics," adds Thapelo. 
He says he believes that every learner can attain great academic results by following the principles in the book.
"The book is not limited to high school learners; university students can also read the book for motivation, and parents can also benefit from it in guiding their children."
Thapelo is a founder of the Segoabe John Educational Foundation which provides mentorship and extra classes for Grade 12 learners. 
Thapelo John Segoabe presents a copy of his book to NWU vice-chancellor Prof Dan Kgwadi.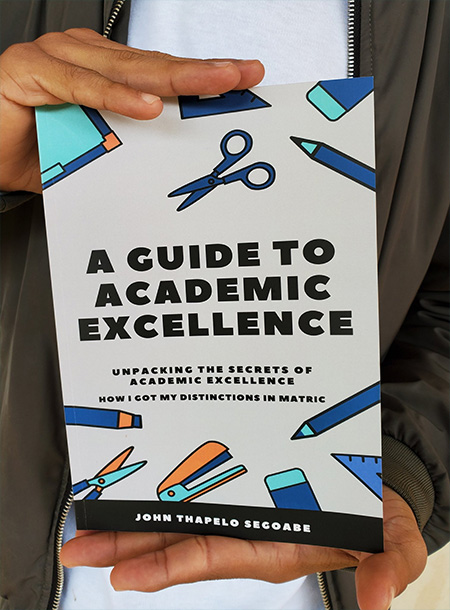 Thabelo's book - A Guide to Academic Excellence.