The North-West University's (NWU's) Potchefstroom Campus can now rightly be called South Africa's go-to tennis destination with the official opening of its clay court precinct on Friday, 28 April 2023.  
These five new courts are supplemented by 10 hard courts and two grass courts to make the NWU Africa's undisputed leader in providing players the best and only complete offering of tennis courts. This, coupled with the NWU's world-class facilities, has again shown why the university is a hub of sporting excellence. 
"It is not only a first for South Africa, but a first for the continent. These three surfaces are a unique one-stop shop that provides ease for our clients, whether they are from or outside the NWU. It also attracts world-class experts and athletes from around the world. The intention was always to create a facility that enhances opportunities as well as our value proposition and offerings for our students," explains Sheldon Rostron, sport manager of the Potchefstroom Campus.
"We wanted to create facilities that contribute to our greater community, and that also serve to drive the growth of tennis within our community and province. These surfaces will also help prepare our students and external users for major events."
Sheldron also says that the university's collaboration with the Riaan Venter Tennis Academy has resulted in a tennis boom in the local area.
"We are also seeing our youth and students excelling on higher platforms. I think that is inspiring in itself and means that our intention has been felt and reached. The other aim was to create a facility that enhances our relationship with Tennis South Africa, as we are specifically focused on youth development," adds Sheldron.  
With the hosting of tennis events and camps, the expertise within the various sport science departments, the Centre for Health and Human Performance and the High Performance Institute, the NWU offers a unique, varied and valued tennis experience. 
"It is also a way for us to showcase our brand and what the NWU stands for. It is our goal and purpose to provide a sustainable economic impact in our community and we are doing that through the multitude of local and global athletes we lure here with our facilities and expertise. Through sport we will continue to work hard to make a difference to our country."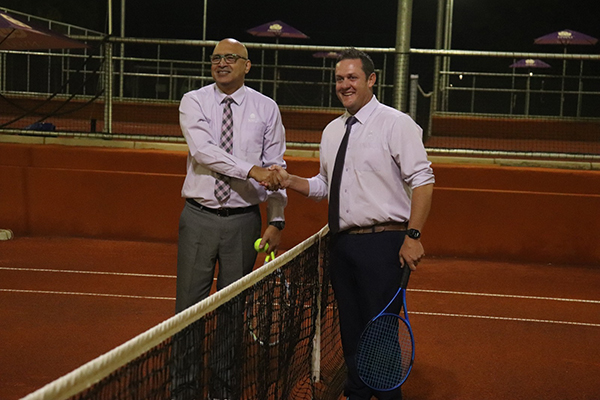 Prof Daryl Balia, deputy vice-chancellor for information technology and Potchefstroom Campus operations, and Sheldon Rostron, sport manager of the Potchefstroom Campus, shake hands after a friendly match on one of the new clay courts. Photo: Wouter Pienaar