Some call them the purple army, others call them the noble boys, but officially known as the North-West University (NWU) Eagles, the team's on-field performance in the 2023 ABC Motsepe League is like a tsunami that can't be stopped.
With one game left to determine the log leaders of the league's Group B stream, the NWU Soccer Institute is leading the pact with 34 points. They have scored 37 goals so far, with 13 of these goals scored in March alone.
Interestingly enough, the team currently in the second spot and standing a chance to challenge the NWU, is called the Black Eagles, a Zwelitsha Football Club. They were the initial 2022 log leaders, but had points docked for fielding a non-registered player.
So far, the Black Eagles are tailing the NWU with 29 points. The maximum number of points the Black Eagles can get is 35 – that is if they win their two remaining games: one against the bottom of the league Taung Mega Stars and the other against third-placed Bokone Nw FC.
If the NWU Soccer Institute wins their last game against fourth-placed Mahika Champions FC on 25 March 2023, they will be the confirmed winners of stream B of the Motsepe League. This will qualify them to play against the winners of stream A to determine the overall winners of North West ABC Motsepe League.
"As things stand, it looks like we are going to have a repeat of last year's North West ABC Motsepe play-offs, when the NWU Soccer Institute faced Orbit College. Orbit College already won stream A this year. If we happen to win the game against Mahika Champions FC, it will be the second time in two years that we qualify for the national playoffs," says Vuyo Sambo, manager of the NWU Soccer Institute.
NWU Soccer Institute coach Karabo Masehela says they want to go all the way.
"The boys left me speechless in their game against FC Maberethe. I appreciate the work we are doing as a team, and I am impressed with how my boys have grown and how they are enjoying football even more," says coach Karabo.
Now, with one game left for stream B of the ABC Motsepe League, we are looking forward to the NWU Eagles flying even higher.
About SAFA ABC Motsepe League
The ABC Motsepe League is the current second division and overall third tier of South African football. The competition features 144 teams in total, divided into nine divisions which are located within the nine geo-political provinces of South Africa.
Each provincial division comprises 16 teams. The winner of each provincial division qualifies for the annual Promotional Play-offs where they are divided into two streams, with the winners of the two streams being promoted to the National First Division.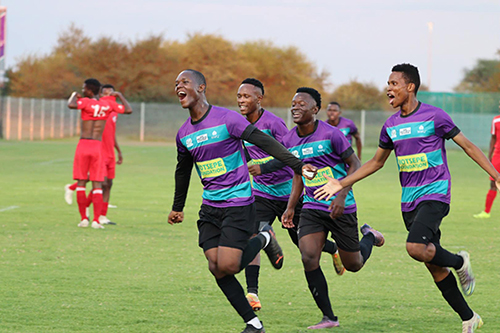 NWU players celebrate a goal against Taung Mega Stars.