Covid-19 has revolutionised how businesses and other institutions are run. The sports industry is no exception and has been massively affected by the global pandemic. Even though the industry has been broadcasting sports events for more than two decades now, this has been limited to professional teams and clubs.
The North-West University (NWU) Soccer Institute recently received the green light from the South African Football Association (SAFA) to resume playing competitive football.
Although this decision was welcome news for the institution's soccer team, football fans are still not allowed at the stadiums, as is the case with South African national leagues and most competitions across the world.
Ahead of the game vs Orbit College on 7 April, Soccer Institute coach Karabo Masehela said sport fans have always played a crucial role in team performances and the prospect of finishing the season without them, particularly during home games, is something no one has ever imagined.
"However, a new era has dawned for the institute, since we managed to live stream our first game on 7 April," says Karabo.
NWU Soccer Institute manager Vuyo Sambo says the plan is to use the institute's Facebook page to live stream all home games of the of the SAFA ABC Motsepe league games from now on.
"Live streaming sport is not a new idea or concept, but it is still a big step for us," says Vuyo.
"The live streaming of our game on 7 April is proof of our commitment to continuously ensure that students experience a full and vibrant student life, despite Covid-19 restrictions."
For more updates on the ABC Motsepe league visit https://mysafa.net/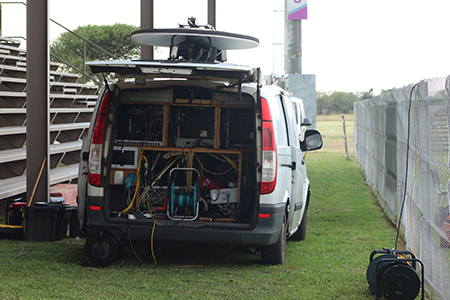 Mobile technology makes it possible to bring NWU soccer excellence to our loyal fans.