The North-West University (NWU) is celebrating the recent announcement that one of their football players, Heaven Prince Julius Sereetsi, has been named the best player of the North West ABC Motsepe league.
Heaven, an NWU Soccer Institute attacking winger, has been recognised for his outstanding performances throughout the league season. He has been a key player in the NWU team, contributing to their success in the league and helping them secure a place in the playoffs.
NWU Soccer Institute manager Vuyolwethu Sambo says Heaven's success is a testament to the quality of coaching and training at the NWU, as well as the commitment and dedication of the player himself.
"It is also a great achievement for the university and its football programme, which has been growing in strength and popularity in recent years," he adds.
"The NWU is committed to developing young talent and providing opportunities for students to pursue their sporting dreams while also pursuing their academic goals. The university's football programme is one of the most successful in the country, with a track record of producing top-quality players who go on to play at the highest levels of the game."
Heaven says this achievement would not be possible without the support of his teammates.
"l would like to congratulate my teammates for the effort, sacrifices and hard work that they displayed throughout the season. I also thank the technical team for always being on our case trying to get the best out of us, because had it not been for them l would not have been able to receive this award," says Heaven.
"I am delighted to have received this accolade, as this is proof that all the commitment and dedication l put in throughout the whole season have been worth it. This award makes me feel invigorated to get over the heart-breaking defeat and will enable me to prepare for other opportunities and obstacles to come. Hopefully this will allow me to grow and become a better player and to achieve more trophies individually – but most importantly – with the team."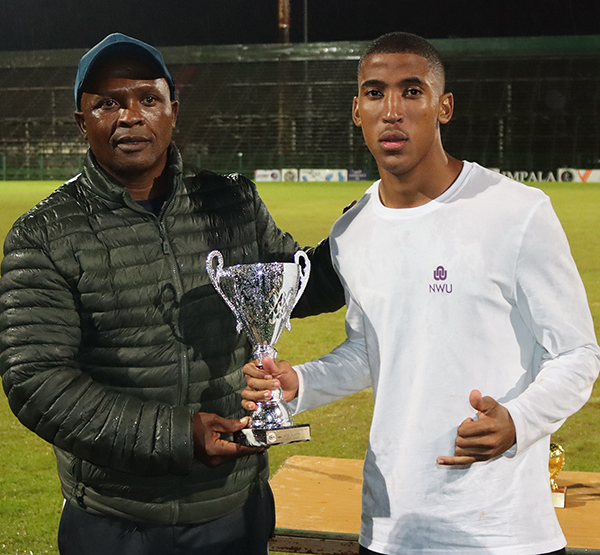 Heaven Sereetsi receives the trophy for being the best player of the North West ABC Motsepe league.