The North-West University (NWU) kicked off the student entrepreneurship season with bootcamps on the Vanderbijlpark and Potchefstroom campuses on 15 and 16 February.
Volunteers from the Faculty of Economic and Management Sciences, NWU Business School, Technology Transfer and Innovation Support Office (TTIS), and bhive Enterprise Development Centre (EDC) presented the bootcamps, which were sponsored by the TTIS.
These bootcamps comprise a two-day programme on how to develop an idea or solution into a social or commercial business and pitch it to investors.
According to Hannes Malan, commercialisation manager at TTIS they are an essential step towards enhancing the student experience at the NWU, and to produce graduates who can also be business owners.
"We are looking at today's students to be tomorrow's employers, and we want to accelerate that. It's of national importance," explains Dr Johann Landsberg, manager of the bhive EDC.
Yolande Bullock of the TTIS Office echoes the sentiment: "We are particularly keen to show our postgraduate students how their research can convert into intellectual property-based start-ups in future. This is a really exciting prospect."
A similar bootcamp will soon be held on the NWU's Mahikeng Campus, as well as a specialised bootcamp for postgraduate students.
Furthermore, the NWU's flagship entrepreneurial event, the Leopards Lair pitching competition, will take place on 1 September 2023, with qualifying rounds scheduled for 12 July. This makes these bootcamps a great starting point for students who wish to compete.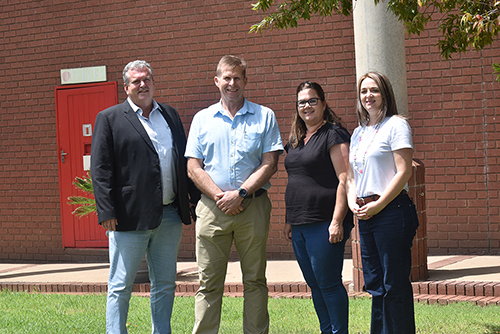 From left are Hannes Malan, Dr Johann Landsberg, Prof Luzaan Hamilton and Annelie Steenkamp. They were facilitators during the Vanderbijlpark Campus boot camp.