Following a goalless draw in their first match against the University of Johannesburg during the opening round of Varsity Football, the North-West University (NWU) triumphed with a score of 3-0.
Entering the game with a single-minded focus to secure victory against VUT, their initial attempt at netting a goal materialised just five minutes into the first half – only to be thwarted by the vigilant VUT goalkeeper.
The pivotal moment arrived when the unstoppable Lesedi Bakai, positioned on the right flank of the team, expertly tapped in a cross, propelling the NWU to a 1-0 lead at the 38-minute mark.
As the second half started, both teams exhibited unwavering determination, yet it was once again the NWU that exhibited greater hunger. Thirty minutes into the second half, Heaven Sereetsi orchestrated a two-touch play on the left side of the field before unleashing a shot that extended the NWU's advantage to 2-0.
A resounding cheer of triumph resonated from NWU supporters, underscoring their well-deserved lead.
As the suspenseful match hurtled toward its climactic finale, the NWU orchestrated a mesmerising offensive barrage, ultimately notching their third goal in the 88th-minute courtesy of a skilful build-up by Reatlegile Kgosithebe, who converted a one-on-one opportunity against the VUT goalkeeper.
NWU coach Amos Xabanisa says he is very happy with the results, but he thinks his team needs to work on their finishing.
"Coming into this game we knew that we had to win this one. We could have won with a bigger margin, but our finishing was not that good.
"Congratulations to the boys – we are now looking forward to our next game against Tshwane University of Technology (TUT), the 2022 Varsity Football champions," says coach Xabanisa.
The NWU will be taking on TUT on Thursday, 10 August at 18:30.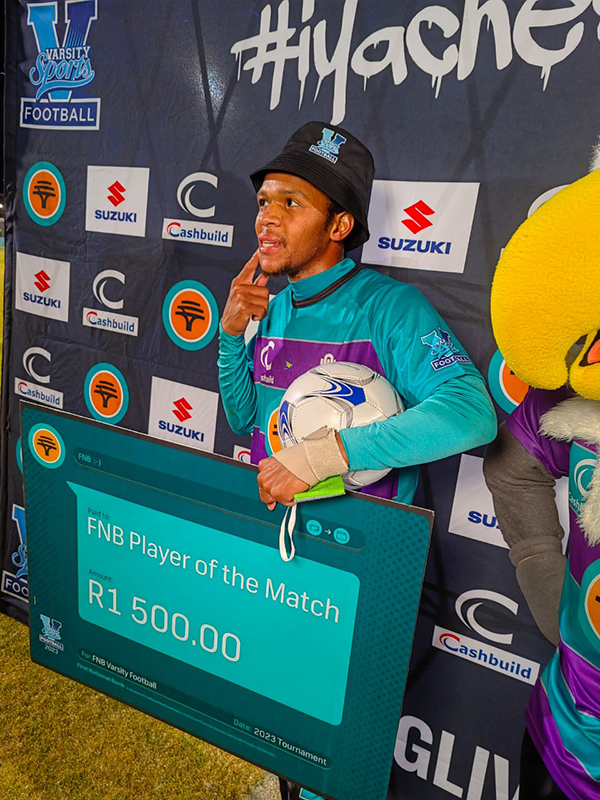 The NWU's Lesego Motsepe was announced Man of the Match.