Miracle workers who have to dig deep to find magical solutions to solve problems – this is how Prof Elmien Truter describes the social work students the North-West University (NWU) send into the communities.
Prof Truter, an associate professor in Social Work and a researcher at the research focus area Community Psychosocial Research (Compres) on the Vanderbijlpark Campus, said this after witnessing the second-year students declaring that they will adhere to the ethics and standards of their profession.
They made the social solemn declaration in front of their peers, family and academics on Friday, 28 October 2022.
Prof Truter says the goal is to develop the best social workers for the future. "We try to shape and mould them by providing students with the necessary knowledge and skills and by exposing them to practical situations where they need to prove that they understand the work we teach them. In the end, we aim to send miracle workers into the communities," she says.
South Africa's statistics on reported child abuse cases are alarming. It has been estimated that 42% of South Africa's children have experienced some form of abuse, and 82% have either witnessed or experienced some form of victimisation, according to The Optimus National Prevalence Study. Communities in South Africa are broken, which is the reality with which we must deal says Prof Truter.
The theme for the ceremony centred around Mary Poppins, a fictional character and the heroine of several children's books by PL Travers.
Prof Truter says she was looking for an appropriate superhero, and when she thought of the journey the students were embarking on, the fictional character of Mary Poppins came to mind.
Just as Mary had to dig in her big bag to find magical solutions to change situations and solve problems, these students will have to apply the skills and the knowledge they acquire through their studies to make a meaningful impact on the lives of those that need it the most.
Taking the oath of solemn declaration is a serious undertaking, Prof Truter notes. "After taking this oath, they are no longer regarded as ordinary students because their conduct is now subject to professional standards as outlined in the South African Council for Social Service Professions (SACSSP) code of ethics. Even at this early stage of their career – their second year of studies – social work students are held to a higher standard. If they do not comply with these ethical standards, they will not be successful and might be found guilty of malpractice," she stresses.
She adds that these students will receive their professional registration numbers and certificates after they have successfully registered as student social workers with the SACSSP.
Dr Christiaan Bekker, deputy director of the School of Psychosocial Health, gave the keynote address at the event, and spoke to the students about their future duty as social workers.
"Social work is an academic discipline and practice-based profession that is concerned with meeting the basic needs of individuals, families, groups, communities and societies to enhance their individual and collective well-being. The ultimate goal of social work is to achieve social justice," he said.
He centred his talk around the various acronyms that can be associated with the term 'social worker'. "Strength, opportunity, conviction, imperfection, altruistic, liable, wholehearted willingness, organised, reliable role model, kaleidoscopic, empathy and resilience – these encompass but a few characteristics of a real social worker.
"This is my interpretation of what is it to be a social worker, and in my mind, I see a well-equipped person that is there to serve others. Over the next couple of years, you will learn how to engage with and build partnerships within your communities," he added.
Dr Bekker urged the students to remember that it is their obligation from now on to conduct themselves in such a way to benefit individuals and groups in their communities.
"Realise that those who have gone before you have invested in your education to help you become well-rounded professionals."
He concluded by wishing the students well and encouraged them to continue making the NWU and their families proud, but most importantly themselves.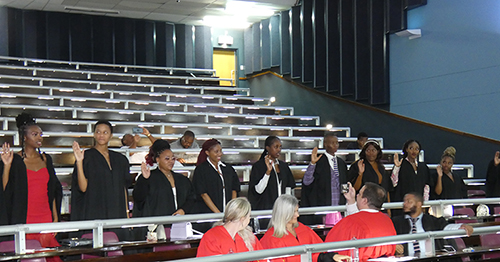 Second-year social work students at the NWU make their social solemn declaration.