Cardiovascular disease is one of the major causes of morbidity and mortality in Sub-Saharan Africa. So says Nombulelo Zenani from the North-West University's (NWU's) School of Nursing.
She adds that the prevalence of these diseases is often due to lifestyle and dietary changes, obesity, lack of physical activity, excessive alcohol consumption and smoking, as well as high stress levels.
"Among the urban and rural black population in South Africa, morbidity and mortality are mostly associated with chronic diseases such as hypertension, type 2 diabetes and stroke," she adds. 
The School of Nursing recently launched a community engagement project on high school-based cardiovascular healthcare at high schools in the North West province.
Through this project, the school aims to work with the Department of Education to promote cardiovascular healthcare among local communities and especially in high schools. The project comprises healthcare talks and hands-on cardiopulmonary resuscitation (CPR) training. 
So far School of Nursing delegates Nombulelo, Tabea Motsilanyane, Mpho Merakeng, and various nursing students have visited Lehurutse Secondary High School in Zeerust and Lethola Secondary in Taung, where they trained 120 learners.
"During our visit, we shared information on how to promote cardiovascular health, which risk factors lead to cardiovascular diseases, how to identify someone who is experiencing cardiac arrest, and how to act as a standby rescue while awaiting medical assistance," explains Nombulelo. 
"Thanks to the great support from Prof Awie Kotze, executive dean of the Faculty of Health Sciences, the project also received training manikins to demonstrate CPR to the learners and for them to practice these techniques on," she adds.
Nombulelo says prompt resuscitation can drastically increase the chances of survival.
"However, a number of people who have out-of-hospital cardiac arrests do not always receive such an intervention. Therefore, teaching CPR to school learners could potentially improve resuscitation survival rates."
The School of Nursing will visit Rustenburg and Klerksdorp next.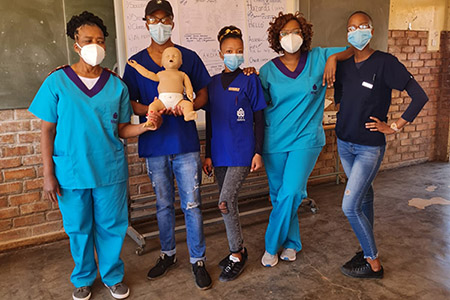 Academics from NWU School of Nursing with learners from Lethola Secondary in Taung.