Ntokozo Happy Msiza, a North-West University (NWU) researcher and PhD student in the subject group Animal Sciences, has broken new ground when she completed a MSc degree in pasture science, a scarce skill and male-dominated field of study.
When she got accepted into the MSc programme, Ntokozo says she was adamant to specialise in pasture science. 
"I am the very first student at the NWU's Mahikeng Campus to have conducted a research study in planted pastures, and I am proud to say that I have completed it in record time." 
"As a black woman in science, I took it upon myself to pursue this degree, to break boundaries in a male-dominated industry, and show that my work is part of an ongoing conversation in academia," she adds. 
Ntokozo has so far produced three manuscripts: one published article – agronomy MDPI 2021, 11(1), 52; (https://doi.org/10.3390/agronomy11010052), one manuscript under peer review, and another manuscript under preparation. 
In 2019 she also co-authored a newsletter article with her supervisor, Dr Khuliso Ravhuhali, titled "Bush encroachment in the North West province, is it a threat?". The article was published in the Grassroots Newsletter of the Grassland Society of Southern Africa.
Ntokozo says her love for research started to surface in the final year of study for her BSc degree.
"I realised I had an inquisitive mind and wanted to develop and expand my knowledge.
"Today I am a well-experienced researcher, all thanks to the training and mentorship I received from Dr Ravhuhali," she adds.
During her MSc study, Ntokozo attended the fifth Arid Zone Ecological Forum (AZEF) Conference in Kimberly, where she presented a poster presentation on her proposal.
She will be attending two more conferences this year, one local – the Grassland Society of South Africa conference, and one international – the Joint XXIV International Grassland and International Rangeland Congress in Nairobi, Kenya.
"I thank God for what I have achieved in my life. I believe that through research I will be able to develop communal farming areas and assist farmers to improve the productivity of their animals.
"As more students start having an interest in pasture science research, hopefully one day we can have a BSc programme in pasture science at the NWU," she concludes.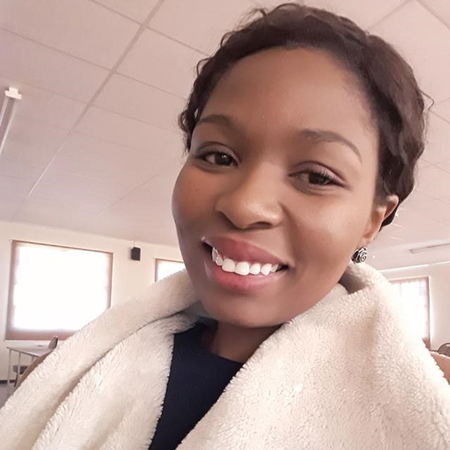 Ntokozo Happy Msiza