The North-West University's (NWU's) Vanderbijlpark Campus once again celebrates being recognised for excellence in higher education by the Professional Management Review Africa (PMR.africa).
The NWU received a Diamond Arrow award for the 12th consecutive year at a recent award ceremony held at Ingwe Lodge in Vanderbijlpark.
Every year the PMR confers awards to recognise excellence in institutions and businesses within the Sedibeng district, which includes the municipalities of Emfuleni, Lesedi and Midvaal. These awards are presented based on the results achieved in annual research surveys across a range of industry sectors.
The Diamond Arrow Award is the highest possible honour in the awards' higher education category.
Prof Linda du Plessis, deputy vice-chancellor for planning and Vanderbijlpark Campus operations, says the campus is very proud of the award.
"The ratings are always based on the perceptions of the respondents. A diamond arrow is the highest score that can be achieved and serves as a testimony of the valuable role that higher education, and particularly the NWU, plays in Vanderbijlpark and its community.
"We can only achieve excellence through the hard work and dedication of every staff member and through the quality of graduates that enter the world of work. Therefore, this award serves as a recognition of your hard work. Thank you for being a brand ambassador for the NWU."
Johan Hattingh, chief executive officer of PMR.africa, says through these awards, they aim to acknowledge the contributions, initiatives, strategies, effort and hard work of various companies.
"We want companies to use the PMR.africa awards to acknowledge and thank their staff members for their hard work and for contributing to a winning company or institution."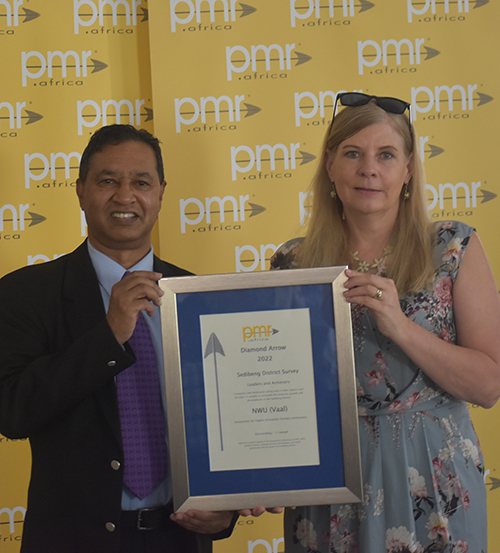 Prof Babs Surujlal, executive dean of the Faculty of Economic and Management Sciences, and Prof Linda du Plessis, deputy vice-chancellor for planning and Vanderbijlpark Campus operations, proudly display the Diamond Arrow award by PMR.africa.