North-West University (NWU) professor in practical theology, Prof Vhumani Magezi, was recently conferred a full professor status at an event held at the university's Vanderbijlpark Campus.
During the event he also delivered his inaugural professorial lecture entitled "African publics and the role of Christianity in fostering 'human-hood': a public pastoral care proposition within African pluralistic contexts".  
His lecture offered reflections on the notion of public pastoral care positioned at the nexus of practical and public theology, and pastoral care to foster quality of life denoted by the term "human-hood".
His address unpacked public pastoral care, spelling out presuppositions underlying the notion of public pastoral care. It also described an additional public called the traditional African forum, and suggested markers of public pastoral care. It highlighted the challenges that public pastoral care theologians should consider and overcome.
Explaining the concept of "human-hood", Prof Vhumani said the idea was built upon principles and values that placed people and the planet at the centre, submitting that civil society and faith-based formations - including churches - could contribute to quality "human-hood" and development.
"While the role of faith and faith-based organisations is valuable in developing and improving people's quality of life, it is important to note that theology is not economics, engineering or any other discipline. Hence, theology's contribution to human development and quality of life - which are elements of quality "human-hood" - should be carefully considered and understood," he pointed out.
He further noted that theology had risks, challenges and limitations in engagements to foster "human-hood". He used the current challenges in South Africa as example, including racial tensions, xenophobic attacks, inequality, unemployment, the floods in KwaZulu-Natal, and disillusionment with the state of the country, among other things. 
"The question that can be posed to a pastor or a theologian is: should one be involved? The answer is likely to be an affirmative yes! The next question is: can one intervene in all these areas? The answer is likely to be no. At stake, then, is the question: where should a pastor or a theologian intervene? On what basis should that choice be made?"
In response to the above questions, Prof Magezi advised that churches, pastors and theologians should make strategic intervention decisions on key social and national issues and priorities, based on their capabilities, positioning and skills to make the most positive difference and optimum contribution. This contribution should be aimed at national and international priorities that places human-hood at the centre.   
Prof Vhumani views his promotion as an acknowledgment of years of hard work.
"This promotion represents a major milestone recognising years of sustained effort on several fronts," he said.
A widely published professor, who has produced groundbreaking scholarly work, Prof Vhumani holds a doctoral degree in practical theology (pastoral care) from Stellenbosch University. His PhD thesis was published by Sun Media under the title "HIV and AIDS, Poverty and Pastoral Care & Counselling: a home-based and congregational systems ministerial approach in Africa" (2007).
He is currently the coordinator for community engagement and stakeholder relations at the NWU Faculty of Theology. He is also a visiting research fellow at Oxford University's Institute of Population and Ageing in the UK, with a research focus on churches and youth sexual reproductive health.
Prof Vhumani currently holds several international leadership positions and is a member of several international academic bodies. He has authored 58 articles in accredited scholarly journals, six chapters in books, has written three books, edited one book, and has produced more than 40 technical reports on HIV and development issues.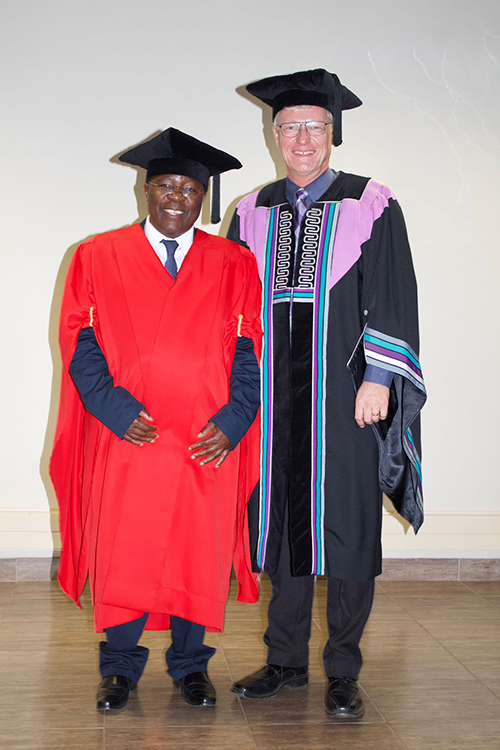 Prof Vhumani Magezi and the executive dean of the NWU's Faculty of Theology, Prof Hennie Goede.