By Ontiretse Motingwa
The North-West University's (NWU's) Educational Psychology subject group, together with the North West Department of Education, recently reached out to Retlametswe Special School in Mahikeng to empower teachers to better support their learners.
This project forms part of the national Department of Education's 6BRICKS® initiative, which is implemented through a collaboration with Care for Education and the NWU's Educational Psychology subject group.
"The 6BRICKS® initiative was created to engage with and motivate young learners in the classroom to acquire the knowledge, skills and attitude necessary for future success," explains Dr Lynn Preston.
Nearly 200 learners with special needs attend the Retlametswe Special School, and 17 committed teachers give each learner individual instruction.
The expansion of this initiative to this school benefits the school and its educators by empowering them to provide specialised interventions to the learners. "The project also advances the nationwide rollout of 6BRICKS® and the NWU is proud to be the first university to be involved in the project. The 6BRICKS® initiative will also encourage schools in the surrounding regions to get involved and to become eligible for 6BRICKS® training and equipment," adds Dr Preston.
She says the Educational Psychology subject group has undertaken the responsibility to promote the 6BRICKS® project with departmental representatives in the Ngaka Modiri Molema District.
"A big thank you to Care for Education for supporting this effort, and especially for extending 6BRICKS® into the more rural parts of the North West province," she concludes."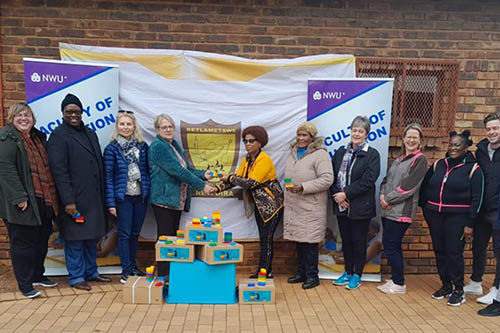 Staff members of the NWU's subject group Educational Psychology and teachers from Retlametswe Special School.