North-West University (NWU) PhD student in Indigenous Knowledge Systems Thulisile Bhuda recently wrote a children's book that focuses on Ndebele mural art.
According to Thulisile the aim of the book is to promote, preserve and disseminate African heritage.
The book, Kwekwezi's cultural mural art, is about a Ndebele female's journey from a young girl, maiden, young woman to an elderly woman in becoming an expert of mural art.
"This book is about how confident the main character is and how she believes in her abilities," explains Thulisile.
"It is made up of real life stories and events about Ndebele women and how most of them became mural artists. It also speaks about how a lot of Ndebele women even travelled overseas to showcase their skills. This book is dedicated to all women who have worked hard to preserve the Ndebele culture," she adds.
Kwekwezi's cultural mural art is aimed at children between eight and 13 years old and is available in isiNdebele and English.
Originally from Mpumalanga in KwaNdebele, Thulisile says preserving African culture and heritage is very important to her.
"The future generation needs to know their cultural history – who they are and where they come from. Therefore, I have chosen to share the culture of the African people through writing for children. I have always had passion for writing and when I decided to write for children, it just felt right."
Thulisile's interest in mural art was evident when she investigated the meaning of colours and the connotations of the shapes in Ndebele beadwork and mural art during her master's studies at the NWU.
Her study focused on Ndebele ethno-mathematics* and proving that Ndebele women use symmetrical geometry in their beadwork and mural art.
Thulisile, who is currently a lecturer at the University of Mpumalanga, is now investigating the origin of mathematical ideas and concepts in Ndebele artefacts during her PhD studies.
*Ethno-mathematics is the relationship between culture and mathematics.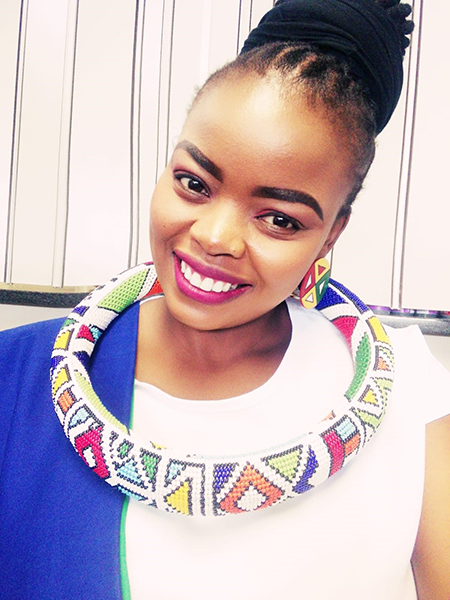 Thulisile Bhuda.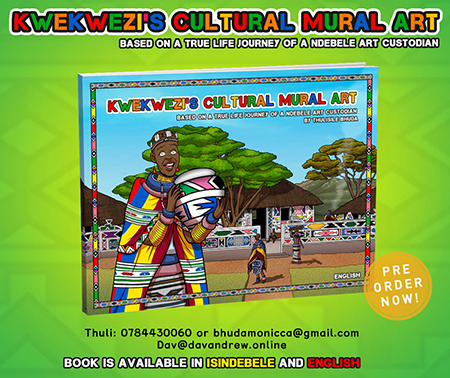 Kwekwezi's cultural mural art is a children's book based on the true life journey of a Ndebele art custodian.