By Ontiretse Motingwa
Young learners from Stadt Primary will soon be singing and dancing to the music coming from boombox speakers the North-West University (NWU) has donated.
The NWU always strives to improve the teaching and learning environment for learners. In line with this commitment, staff members from the NWU's Faculty of Education on the Mahikeng Campus recently donated items to the Stadt Primary School to create a better learning environment.
Ellen Nkwe, Dr Queen Motsepe, Dr Michael Nhambura, Agrineth Christie and Lesego Maroja visited the school.
"The NWU is committed to giving back to its communities, and we support this view and try to assist where we can," says Ellen.
They donated paintings for five classrooms and five bluetooth boombox speakers to be used by Foundation Phase teachers.
More about Stadt Primary School
Stadt Primary school is located in Montshioa Stadt village in the Ngaka Modiri Molema District and caters for learners from different local villages. It is more than 100 years old, and as a significantly historical school it needs to be preserved as a historical site of the Barolong tribes in the North West province.
The school was opened by Silas T Molema in 1878, and started off under a large Kameeldoring tree which still stands today in the centre of this school complex. The school bell which has been used to call children to class over the past 100 years hangs on this tree, and it still summons learners to school today.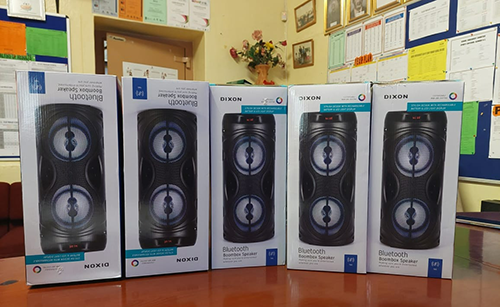 These are the bluetooth boombox speakers that staff members from the NWU's Faculty of Education on the Mahikeng Campus donated to Stadt Primary School.