Meelan Roopa, a lecturer in the North-West University's (NWU's) Faculty of Engineering, received the award for Best Industrial Engineering Excellence in Teaching and Learning at the Southern African Institute for Industrial Engineering's (SAIIE's) 2022 awards ceremony.
Meelan received this prestigious award in recognition of his teaching prowess in business engineering, a capstone module for final-year industrial engineering students.
"This award has made me conscious of the direct impact we as lecturers can have on our students and respective communities. It has inspired me to ensure that my lecturing challenges future NWU industrial engineers to seek out new knowledge every day and remain inquisitive," says Meelan.
"I am honoured to receive such a prestigious award. This award will always mean a lot to me as I continue to develop my academic career."
He says in this module, students learn about the world of business, Industry 4.0 technologies, business design, strategies and tools, Enterprise Resource Planning (ERP) platforms, value engineering, and ethics. "Most importantly, it challenges them to create innovative business ideas through a gamified competition similar to Shark Tank or Dragon's Den," Meelan adds.
"In a group setting, this process generates innovative business ideas that are supported by a solid business plan and Minimal Viable Product (MVP). A key component of these ideas is that students design businesses with the goal of uplifting society through job creation and direct societal gains enabled by Industry 4.0 technologies," he adds.
According to Meelan, societal upliftment forms part of what the industrial engineering profession seeks to achieve. Students develop a core value proposition through intricate business design. "These technologies are meant to bridge societal gaps and empower a workforce, not replace them. The course is presented using various videos, case studies, research papers, and guest lectures that guide students throughout this journey.
"Class discussions help foster and reinforce students' understanding of pertinent concepts that are applied. Within the module, students can motivate how their businesses could satisfy specific human needs and form sustainable mechanisms that can remedy inequalities, create jobs and promote a profitable future for all."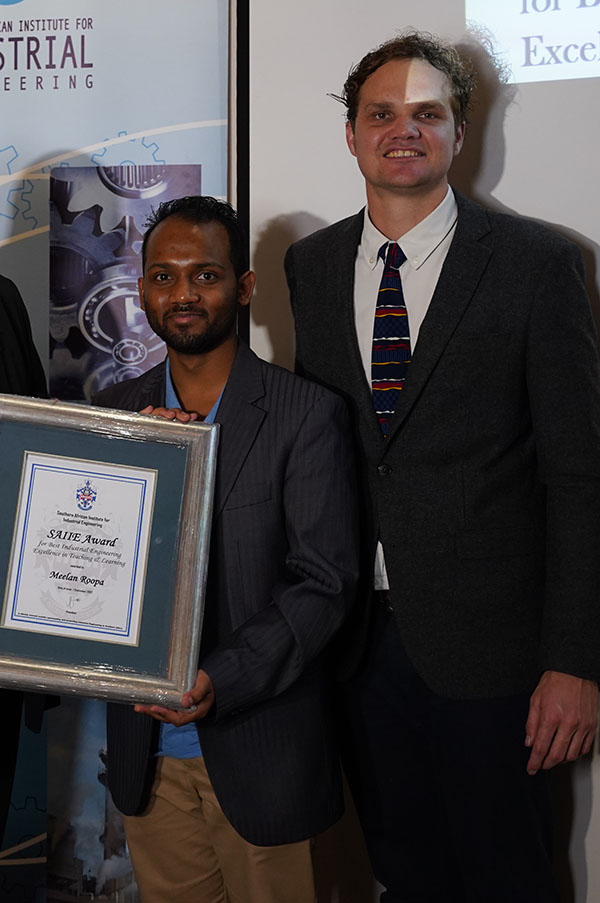 The NWU's Meelan Roopa proudly display his SAIIE award for Best Industrial Engineering Excellence in Teaching and Learning. With him is Jacques Fauré, president of the SAIIE.