Chuku Taole, North-West University (NWU) Information Technology (IT) lecturer and Vanderbijlpark Campus alumnus, is committed to making a positive and lasting difference in the Lethabo Power Village where he grew up. 
For the past few years, the former NWU Student Representative Council member, together with a group of former Pele-Ya-Pele Secondary School classmates from different career fields, have been spending their free time motivating and giving career guidance to learners at their former high school.
Chuku says his motivation to be part of this initiative was to introduce IT skills to learners from disadvantaged schools at primary to high school level, making it easier for them to adapt to tertiary learning.
"Information technology is a big part of tertiary learning. Acquiring computer basics in high school comes in very handy at tertiary level, no matter which course you do," he says.
The 34-year-old lecturer entered the world of IT by chance.
Chuku says he did not receive any career guidance when he was at school, and as a result, changed his mind about what he wanted to study while standing in a registration queue.
"Actually, a fellow first-year IT student convinced me to register for an IT degree, instead of the BEd I wanted to register for," he adds. 
"IT was not on my radar. I didn't even know that a course like that existed until I heard about it from my fellow student. Come to think of it, I did not even know what a BEd entailed - I just liked the name!"
Telling disadvantaged youth about IT
Chuku says they also want to expose learners to different career possibilities. 
"Most of the learners I talk to have no idea what IT is all about. I take them through the course, guide them on which subjects to take and tell them about the different aspects of IT and its career prospects," says the married father of two.
He says he was planning to start weekend classes on basic computer skills and to create interest in IT before the Covid-19 pandemic hit.
"Some learners go to tertiary institutions without having ever physically seeing or touching a computer, which puts them at a disadvantage in their studies," he says.
Bridging the digital divide
Chuku adds that Covid-19 brought the digital divide to the forefront and turned technology into an educational necessity rather than a luxury.
"The past few months showed us that having access to computers and the internet made the difference between continuing to learn or falling behind.
"Covid-19 widened the gap and digital divide between the kids from disadvantaged schools and well-resourced schools. My vision is not only to introduce these disadvantaged learners to IT, but to also help them understand that IT is an important part of our lives and that it is here to stay."
Chuku says giving back to his community has created meaning in his life, and that this gratification grows even further when he considers the impact of their actions.
"Many learners have been inspired by our guidance and motivation. Some of them who were initially not interested in furthering their studies, are now continuing with their tertiary education. Incidentally, one of our learners is currently busy with his studies at the NWU."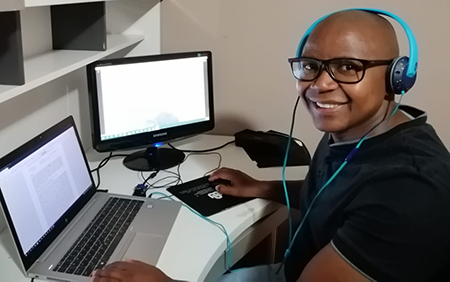 The NWU's Chuku Taole is committed to making a positive and lasting difference among young people.