For North-West University (NWU) lecturer, Prof Fazel Ebrihiam Freeks, giving back to his former school and the community he grew up in is an opportunity to come full circle with his own young self and those who gave to him. 
Growing up, life was not a walk in the park for Prof Freeks.
His mother passed away when he was only three years old, leaving him with a deadbeat dad and depending on the mercy of others.
That experience framed his understanding of how difficult it can be to have no mentor to guide you.
Through collaboration with students from the Faculty of Theology, Prof Freeks has since run different community programmes, projects and services including the Fatherhood Training and Equipping Project, The Life Plan Training and Equipping Programme and a values-and character-building programme.
His latest project, the faculty's motivational initiative, was launched last year at his former high school, Promosa Secondary School in Potchefstroom.
Through the programme Prof Freeks, together with some of his students, offers tips on study methods and guidance on building resilience.
Prof Freeks says the primary aim of the initiative is to better the school's matric results. 
"We help support learners' learning and wellbeing. Through this initiative, learners are motivated to pursue their dreams and are shown the academic pathways to success," says Prof Freeks. 
"The school was once one of the best in the area, and we want to help return it to its former glory and inspire students to excel."
He says the project has generated a lot of interest from learners. "We started a WhatsApp group to do mini online activities via video clips. We use these to encourage, inspire and empower learners, to develop their social skills, and to help them explore possible career options. 
"Through these video clips we cover various topics, including the importance of communication, choices and decisions in life, and the importance of values and education," explains Prof Freeks.
He says they also talk about the importance of character-building and how to maintain a healthy mindset.
Prof Freeks praises the principal of Promosa Secondary School, Mrs Veyonny Ferris, for her enthusiasm and support in making sure that the programme got off the ground.
"Mrs Ferris has been instrumental in the project. Her great passion for young people is inspirational. She made it easy for us to start this initiative."
 Prof Freeks adds that he hopes his involvement in his community and former school will inspire others to give back to their communities.
"I encourage people not to miss the opportunity to give back to their communities. Not only does it benefit the people you give back to, but it is also beneficial to you as well," he says.
More about Prof Freeks
Prof Freeks is the subject chair for practical theology at the NWU, and he lectures the Pastoral Care of Marriage and Family and the Broader Framework of Relationships module for second-year students.
His fields of study are practical theology, missiology, and teaching and learning. His research focus is on fatherhood, father absence and the fundamental role of the father within the family context.
He has also authored books on fatherhood, values, parenting and life issues. These books include: Dad is Destiny: the man God created to be (2013), Dad be the Father God called you to be: Values-based parenting for Christian Families (2017), Dad and God: Becoming a Father shaped by the FATHER – 31 Days of Change Daily Devotional (2017), Live Circumspectly, Even in a Time of Confusion and Chaos: The Bible is still the Best Guide (2018), and Character Formation in Children and the Responsibility of Role Players (2018).
He holds a Higher Education Diploma (secondary level) (HED Sec), a BAHons, an MA in practical theology, a PhD in teaching and learning, a PhD in practical theology, and a PhD in missiology. He also holds a Human Resources National Diploma (N4, N5, N6), and many other certificates in various fields of study.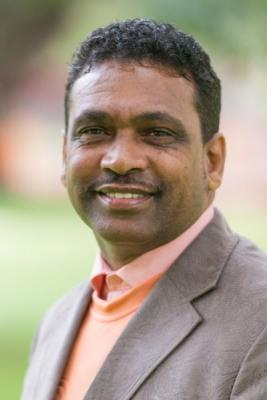 Prof Fazel Freeks