Walking across the stage to receive his PhD in operational research was surreal for Piet Ntema.
The North-West University (NWU) statistics lecturer received his degree at a recent graduation ceremony on the Vanderbijlpark Campus.
Piet and his five siblings were raised in poverty by a widowed mother who was a domestic worker. However, they persevered and today all but one of them are graduates, with his older brother Lejone Ntema being a university professor. "The hardships I experienced while growing up gave me the resilience to earn a PhD eventually," says Piet.
He also holds a BSc and honours degree in statistics, a higher education diploma, and a master's degree in computer science. His master's study was supervised by Dr Energy Sonono, and his thesis was titled "Developing a risk profile for at risk student(s) at a university in South Africa".
Piet says his journey to success was no solo feat, and many people helped him to get where he is today.
After passing matric he did not have money to further his studies. Fortunately, his brother Lejone was working part-time as a school teacher for adults, and managed to raise money for Piet's transport to the former Vista University in Mamelodi, Pretoria, where he was accepted for a BSc degree in statistics. Through the help of a bursary fund, he could register for his first degree.
Piet says he did not have a place to sleep, but luckily Kgolane Makua, an administrator who was assisting him with his registration, offered to help.
"I told him my story, and he took me to his house and told me to live there until I was settled.
"Touched by his kindness, I asked him what he wanted me to do for him when I was settled. He told me that the greatest gift would be for me getting a PhD. That stuck with me and became my biggest motivation," says Piet.
On Piet's graduation day, an emotional and proud Kgolane joined Piet's family to watch him receive his doctorate.
"I am overwhelmed with joy and truly blessed to know that all Piet's hard work and dedication have paid off. It gives me a sense of fulfilment to have been a part of his academic journey," says Kgolane.
Piet thanks Kgolane, his supervisor and his family for providing valuable advice and generous support throughout his journey. He is also grateful to his brother for playing a significant role in his life.
"Without the help and support from others, I wouldn't be where I am. I thank my brother who gave me the strength to believe in myself and encouraged me to pursue my dream. I also thank my mother who encouraged us to study and to help each other as siblings," he says.
Piet, who is also a motivational speaker, says he wants to inspire students to carve their own futures. Among his principles is to always be humble, no matter what your beginning is. Piet is dedicated to live and to leaving positive change behind.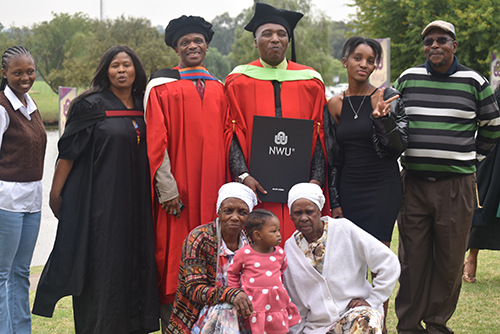 If you can dream it, you can do it. Piet Ntema, flanked by his family and Kgolane Makua, share a joyful moment at his graduation.