The North-West University (NWU) installed Dr Anna Mokgokong, renowned business leader and entrepreneur, as its third chancellor during a prestigious event at the Feather Hill venue in Potchefstroom on 20 November. As chancellor she will serve as titular head of the NWU. All qualifications awarded by the university are formally conferred by the chancellor.
Dr Mokgokong, who is at the helm of Community Investment Holdings (Pty) Ltd, of which she is also founding chairperson, is a true social activist and has made an immense contribution to the transformation of the companies on whose boards she serves. She is a senior director of five companies listed on the Johannesburg Stock Exchange and chairperson of three of those.
In addition to her extensive business knowledge and acclaim for her entrepreneurial ability, she has served as president of the South African Women Entrepreneurs Network (SA WEN) and in the International Women's Forum of South Africa (IWFSA). Dr Mokgokong was inducted into the Women Entrepreneurs of the World, an independent, international network of the world's powerful and successful entrepreneurs in 1998. Her other accolades include receiving the prestigious SA Businesswoman of the Year Award in 1999. In 2015, the Department of Trade and Industry, in partnership with Proudly South African and Brand South Africa, honoured Dr Mokgokong with a Lifetime Achievement Award at the South African Premier Business Award ceremony.
"I couldn't think of a more appropriate institution to be associated with and whose geographical footprint resembles the journey of my career. The university spans two provinces, encapsulating both semi-rural and urban environments, and it also represents a microcosm of our diverse society and culture."
Dr Mokgokong says the NWU therefore represents the very core of who South Africans are, and as such, can take a leading role in addressing societal ills while nurturing the spirit of ubuntu.
"I am thrilled about the next chapter in the history of the university. I believe that service to the higher-education sector of our country is a mammoth, noble task, and it is also a service of hope. I accepted this nomination being fully aware of the challenges faced not only by this institution, but also in higher-education institutions both nationally and internationally."
She says she feels serving as chancellor is a calling. "My mantra is: 'Raise your hand, be seen and be counted.' For me it is a calling for community service, to which I dedicate my life."
"It is my express wish that, as an institution, the NWU will be regarded as proactive in setting an agenda for social cause, rather than being reactionary to the agenda set by social ills." She believes social justice is about providing access to quality education as embedded in the Constitution.
Dr Bismark Tyobeka, NWU Council chairperson, says the installation of Dr Mokgokong as the first-ever female chancellor of the university solidifies their pledge to proactive transformation. "It further vests us as a bastion of equality." He says out of her impressive resumé and proven track-record it is clear that her accomplishments speak of an unyielding commitment towards excellence. "This resonates with the very core driving force of our institution."
Prof Dan Kgwadi, vice-chancellor, says Dr Mokgokong is a woman of firsts. "She is a frontrunner; an enabler of progress, and now a valued member of the NWU family."
He says the university is honoured to welcome her. "Together with Dr Mokgokong we will continue to grow even stronger and more impactful in future."
Dr Mokgokong follows in the illustrious footsteps of Kgosi Leruo Molotlegi, King of the Royal Bafokeng nation, and Dr Popo Molefe, former Premier of North-West.
View Dr Anna Mokgokong's full profile.
View a video of the prestigious event.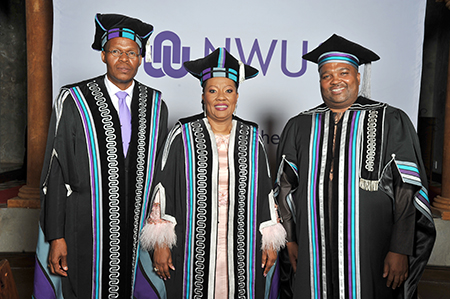 Prof Dan Kgwadi, NWU vice-chancellor, Dr Anna Mokgokong, the new NWU chancellor, and Dr Bismark Tyobeka, NWU Council chairperson.
Issued by NWU Corporate Relations and Marketing
Enquiries:            Willie du Plessis, Communications Practitioner: 082 590 0692.
                             Hanna McDonald, Community Investment Holdings (Pty) Ltd: 083 805 3691