The North-West University's (NWU's) Indigenous Knowledge Systems (IKS) Centre, in collaboration with the Technology Innovation Agency (TIA) and the NWU Technology Transfer and Innovation Support office, hosted a hybrid lekgotla on 14 September 2021 to explore ways to assist indigenous communities with the commercialisation of some of their indigenous products.
"The IKS centre aims to further support the communities' grassroots projects by helping them to compile funding proposals for their innovations and submit them to TIA for possible commercialisation," says Dr Motheo Koitsiwe, IKS centre director.
"The centre is focusing on various areas, such as nutraceuticals and pharmaceuticals, and aims to ensure that researchers and scientists support these innovative communities and not let them fall prey to violations such as misappropriation or bio-piracy," he adds. 
During the lekgotla three of the indigenous organisations that were present made presentations. 
The first company presented on their indigenous innovation which included bath salts, bath bombs, lip balms, and soaps developed from indigenous plants and products.
Next, NWU alumnus Mompati Kgomanyana-Modimogale from Modi Donkey Farm illustrated how undervalued donkeys are and how donkey milk products such as soaps are ridiculed and underexplored. 
The third presentation focused on using cannabis for its medicinal properties in products such as teas and tonics. TIA representative Vuyisile Hobololo says they are looking forward to furthering engagement with the IKS centre and the NWU. 
"The purpose of our conversation today was to bridge the innovation gap and to help more small, medium and micro indigenous enterprises grow and prosper. TIA has several funding mechanisms and the seed fund is one such instrument that may be relevant to IKS," he adds.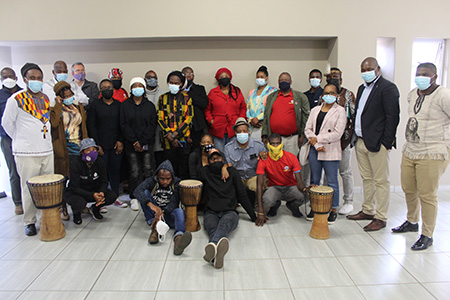 Attendees of the NWU IKS lekgotla.