The North-West University's (NWU's) Indigenous Knowledge Systems (IKS) Centre has once again teamed up with the Department of Science and Innovation and Prof Mziwoxolo Mzo Sirayi, an adjunct professor from Nelson Mandela University, to develop a one-of-its-kind indigenous knowledge-led smart village in Nyandeni in the Eastern Cape.
The smart village project arises from the successful feasibility study of a smart village at the Dr S Moroka community in Mpumalanga in 2019 and the Amahlubi community in 2020, where a need to launch a 3D printed smart village hub, supported by grassroots innovation and indigenous knowledge system elements, was identified.
According to Prof Sirayi, the project team leader and initiator, villages are the heart of the nation, and therefore need to be developed to meet the demand of the people living in them.
"The overall aim of a smart village is to help solve problems through the implementation of a combination of the fourth industrial revolution (4IR), culture and indigenous knowledge," says Prof Serayi.
"The model demonstrates that an IKS-led smart village should use available traditional indigenous knowledge systems and technologies to meet short-term and long-term socio-economic, infrastructural, education, skills and communication goals," he adds.
"In doing so, the ecological and environmental integrity and stability of the village must be maintained. Furthermore, the smart village concept may play a crucial role in maintaining the balance between the development of rural and urban areas to help reduce the migration of rural populations to urban areas."
Otsile Maditsi, community engagement coordinator at the NWU IKS Centre, says in this era of the 4IR, the world is rapidly shifting to a modern and more globalised society, as well as inclusive and sustainable development.
He says that is why there is a need to harness smart technological capabilities to develop indigenous smart villages in South Africa through an indigenous knowledge or culture-led community development approach. This approach is informed by
grassroots innovation in compliance with the Protection, Promotion, Development and Management of Indigenous Knowledge Act, 2019.
"The NWU'S IKS Centre has played a major role in the development of this IK Act during the public consultations and awareness workshops across the country," adds Otsile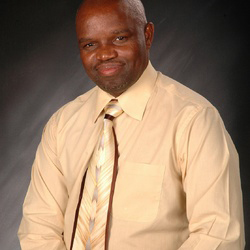 Prof Mziwoxolo Mzo Sirayi from Nelson Mandela University.
Otsile Maditsi, community engagement coordinator at the NWU IKS Centre.