The North-West University's (NWU's) School of Social Sciences played host to the successful Planetary Utilisation of Sustainability Strategies (PLUS) Southern African Regional Conference from 11 to 13 September at its Mahikeng Campus.
The conference, themed "Land, Landscape, Local Knowledge, and the Pursuit of Sustainable Ontologies," brought together experts, postgraduate students, and thought leaders to discuss pressing issues related to sustainability.
PLUS is a network concerned with aspects of sustainability and is funded by the German Academic Exchange Service. It consists of nine universities in Southern Africa – including the NWU – Latin America and Germany.
According to Prof Mokgadi Molope from the NWU's School of Social Sciences and member of the local organising team, the NWU hosted the conference on behalf of this consortium of universities to collaborate on research, teaching, learning, and community engagement activities.
Prof Lesley Green, keynote speaker and director of Environmental Humanities South and research programme leader for Critical Zones Africa at the University of Cape Town, delivered a thought-provoking presentation. Titled "Earth systems don't run on dollar values: From macroeconomics to African environmentalism in climate adaptation policy", Her address emphasised the importance of considering environmental factors in climate adaptation policy rather than solely focusing on economic values.
The second guest speaker was Elevena Hayford, a master's student at the Namibia University of Science and Technology, and she focused on marketing the Sustainable Development Goals (SDGs): concepts, gaps, and opportunities for action in Southern Africa. She highlighted the unique challenges and opportunities that Southern Africa presents for sustainable development. She emphasised that several SDGs hold immense significance in the region, for instance eradicating poverty, zero hunger, promoting good health and well-being, quality education, gender equality, access to clean water and sanitation, and affordable clean energy solutions.
"Despite increased awareness of the SDGs, there are still marketing gaps in Southern Africa. Successfully articulating the importance of these goals and encouraging active contributions remain challenges. To address this, we need innovative and appealing marketing methods to build exposure and enthusiasm," said Elevena.
The conference was not only an opportunity to discuss critical sustainability issues, but also highlighted the importance of collaboration and knowledge sharing among universities.
Four thematic areas have been identified from this conference. These will be workshopped in Botswana in preparation for a book project, as well as the development of journal articles which will be published in high-impact journals. Living laboratories and collaborative and team-teaching initiatives will also be developed for implementation from 2024.
The NWU's successful hosting of the PLUS Southern African Regional Conference highlights its commitment to advancing discussions and initiatives related to sustainability and serves as a platform for continued collaboration in this vital field.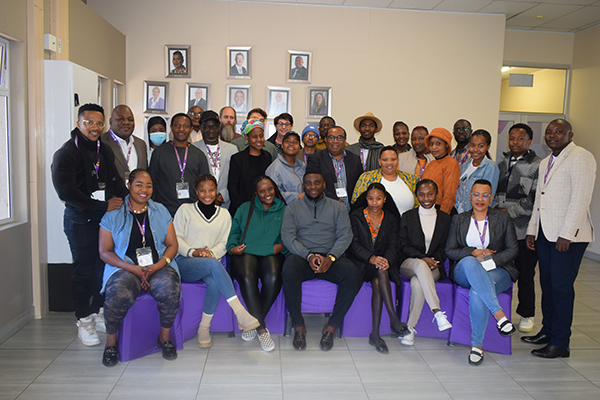 Attendees of the PLUS conference that recently took place on the NWU's Mahikeng Campus.