By: Phenyo Mokgothu and Fambisa Mabotse
The Faculty of Law on the North-West University's (NWU's) Mahikeng Campus hosted its first-ever cross-campus student seminar aimed at empowering women in the faculty.
Refilwe Tsatsimpe was the programme director of the event that took place on 9 September 2022 under the theme "Awakening the 'imbokodo' spirit in you".
The main objective of the seminar was to encourage law students to pursue transformative constitutionalism and inclusivity in their academic journey.
The faculty's deputy dean for quality assurance and stakeholder relations, Prof Michelle Barnard, welcomed attendees and said that strong women need to start occupying their rightful place in the legal profession.
"May we know them, may we be them and may we raise them," said Prof Barnard.
According to one of the speakers at the seminar, Naledi Tawana from the NWU Law Clinic, unequal treatment in the legal profession is a reality.
"The lack of female representatives in leadership positions in the legal profession is disturbing, and therefore it's imperative that we start to collaborate with each other to encourage mentorship so that we achieve our goals," she said.
Founder of KM Matladi Attorneys Inc. Keitumetse Matladi encouraged students to be resilient when they join the law profession.
"As you continue on your journey you will encounter setbacks, and therefore it is important to find out what you have to do to unleash the 'imbokodo' spirit in you."
"'Imbokodo' is a Zulu word meaning 'a rock', and simbolises the strength of a woman, and the legal profession requires strong women," said Keitumetse.
Other speakers included student presenters Thato Motingwe and Gaositwe Molekwa.
The seminar was concluded with a panel discussion facilitated by NWU academic Adv Getsia Zazo, after which the Law Students Council lead students in creating an affirmation board to visualise their goals.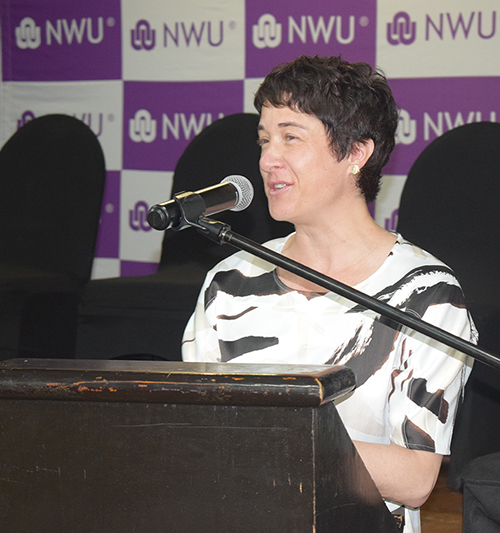 Prof Michelle Barnard is the deputy dean for quality assurance and stakeholder relations in the NWU's Faculty of Law.